---
J.M. Smucker Acquires Twinkie Maker Hostess In $5.6 Billion Deal
Updating (0826ET):
According to Bloomberg, J.M. Smucker acquired Hostess Brands for about $34.25 per share in a cash and stock deal. 
Hostess shares are up about 17% in premarket trading to $32.99.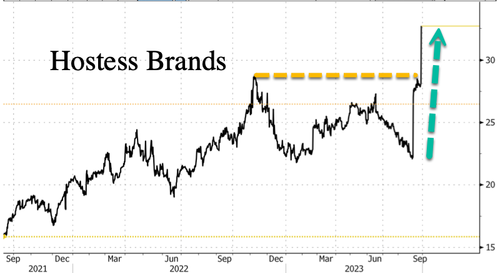 Bloomberg provided more details about the deal:
Hostess Brands holders will get $30 cash & 0.03002 The J.M. Smucker Co. shares

Deal represents a total enterprise value of approximately $5.6 billion, which includes approximately $900 million of net debt

Company sees deal adding to adjusted earnings per share in the first fiscal year

Cash portion of the transaction is expected to be funded through a combination of cash on hand, a bank term loan and long-term public bonds

Company has secured $5.2 billion in a fully committed bridge financing from Bank of America, N.A. and RBC Capital Markets

Pro forma total net debt estimated at the closing date will be approximately $8.6 billion and the pro forma total net debt-to- EBITDA ratio is expected to be approximately 4.4x

Deal seen closing in the third quarter of the company's current fiscal year ending April 30, 2024
*   *   * 
Shares of Hostess Brands Inc., known for producing Twinkies, surged in New York's premarket trading following the report that The J.M. Smucker Company, the manufacturer of Jif peanut butter, intends to acquire it as soon as Monday. 
The Wall Street Journal was the first to report that J.M. Smucker could acquire Hostess Brands. People familiar with the deal said General Mills, parent of Cheerios and Betty Crocker, was in a "heated competition" with J.M. Smucker over the company that makes Twinkies junk food. 
A buyout of Hostess would be a major turnaround story for the brand founded in 1930 after it suffered two Chapter 11 bankruptcies. The company returned to capital markets in 2016 after going private. In 2022, sales topped $1.3 billion, and the stock has since doubled in five years. If a sale goes through today, the people said the deal could be worth around $4 billion.
As of 0700 ET, Hostess soared to a new record high, up 16% in premarket trading.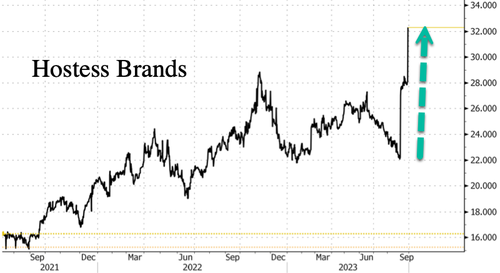 Last month, Hostess reported a 3.5% year-on-year revenue increase for the quarter ending in June, reaching $352.4 million. Despite a series of price hikes to offset inflation, the figure fell short of analysts' predictions. Still, the company lifted its full-year profit outlook to the "higher end" of its previous forecast of $315 million to $325 million, adding it's "well-positioned for attractive shareholder returns as we build a premier, pure-play snacking company."
Even with an obesity and health crisis in America, much of which is tied to the abundance of junk food produced by corporations, we see minimal movement by the ESG crowd to go after companies with high revenue exposure to unhealthy products. Odd right? 
Why promote healthy eating habits when obese Americans can ditch their Pelotons (they never use) for the Wegovy obesity drug?
Loading...