---
UAW Lowers Pay Hike Demand; Labor Deal With Detroit Automakers 'Still Distant' Before Thursday Deadline
The pro-union Biden administration has been very confident United Auto Workers won't strike against Detroit's "Big Three" automakers - General Motors, Ford, and Stellantis, the producer of Chrysler - but people familiar with negotiations tell Bloomberg, "automakers and the union still remain far apart on several issues." The deadline for the new four-year labor agreement is Thursday at midnight, and a strike would be seen if no deal is reached.
People familiar with the ongoing negotiations say UAW has lowered its demand for pay hikes from 40% to 36%. "It is now asking for a series of increases over nearly five years that would start with an 18% boost and then alternate between 5% and 4% annually over the subsequent years of the contract," said the people. They noted Detroit's automakers are still not entertained by the counteroffer.
The people added that automakers see UAW's demands as uneconomical as skyrocketing labor costs could threaten profitability. UAW President Shawn Fain has been very clear with all three automakers that at midnight on Thursday, 146,000 workers will strike if he doesn't have a proper deal in his hands. 
"The deadline is the deadline," Fain said in an interview in August.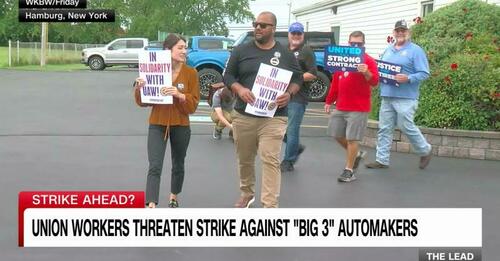 The people said, "The automakers and the union still remain far apart on several issues, including the UAW's request for a restoration of cost-of-living adjustments."
With only two days left in negotiations, there is still a considerable gap between the union and automakers. 
John Murphy, a senior auto analyst at Bank of America Securities, told clients last week to prepare for a strike. 
If a strike is seen, data from economic consultancy Anderson Economic Group showed that Michigan's economy could quickly plunge into recession (and maybe this is what the Fed needs to cool inflation further). 
However, President Biden has been very adamant about no strike. On Monday, Treasury Secretary Wally Adeyemo reaffirmed Biden's stance that there will be no strike. 
UAW and automakers are in the final countdown. 
Loading...