---
UAW Begins Negotiations With Detroit Automakers, Admits 'Things Moving Slowly' As Deadline Looms
Update (1355ET):
After United Auto Workers rejected all three offers from Detroit's "Big Three" automakers - General Motors, Ford, and Stellantis, the producer of Chrysler - last week, the union said they're now ready to negotiate. 
As quoted by Bloomberg, UAW President Shawn Fain stated, "We are ready to negotiate in Detroit 24/7, just as we have been for the past seven weeks since we gave them our Members Demands." 
Fain continued, "Despite receiving no response for over a month, when the CEOs are ready to make a serious offer, we'll be there, day or night." 
Bloomberg said UAW officials already met with the automakers on Monday. The union boss said, "Things are moving but they're moving very slow, and we've got a long way to go in four days." 
Thursday is the deadline for a new four-year labor agreement for approximately 146,000 workers. A strike will follow shortly after that if a labor deal is not agreed upon.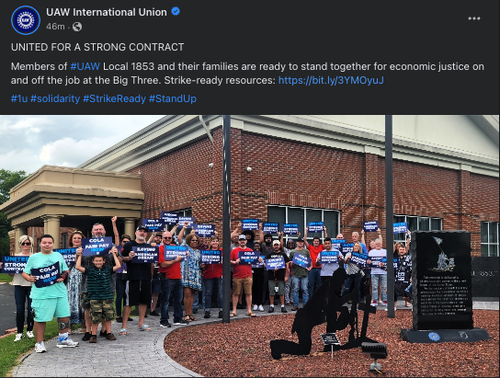 Members are preparing for a strike. 
*   *   * 
The pro-union Biden administration has been very confident United Auto Workers won't strike against Detroit's "Big Three" automakers - General Motors, Ford, and Stellantis, the producer of Chrysler - and a deal will be struck before Thursday. Even though Bank of America Securities warned clients, a "strike is almost guaranteed." 
Earlier this month, Biden was vacationing at his beach house in liberal white-elitest Rehoboth Beach when he said, "I'm not worried about a strike. I don't think it's going to happen." 
As the Thursday deadline looms, one which UAW's current contract with the automakers expires, Deputy Treasury Secretary Wally Adeyemo reaffirmed Biden's stance that there will be no strike. 
Adeyemo told CNBC this morning that UAW leaders and automakers are well-positioned to hammer out a new four-year labor agreement for approximately 146,000 workers before the deadline. 
He said both sides want to reach a new labor contract because it's in their best economic interests, adding, "They're well positioned to cut this deal, that's what we expect them to do." 
However, John Murphy, a senior auto analyst at Bank of America Securities, warned clients last week that a strike was "almost guaranteed." 
Murphy expects negotiations will result in a 25-30% increase in labor costs over the next four years with "sizable cash signing bonuses and adjustments to other benefits" once contracts are finalized. 
He said the word on the street is "UAW may offer a counter-proposal to the OEM offers shortly" but warned, "We continue to believe a strike is very likely after the Master Agreement expires next Thursday, September 14." 
Bloomberg cited new data from economic consultancy Anderson Economic Group that showed just ten days of strikes at General Motors, Ford, and Stellantis factories could reduce US gross domestic product by $5.6 billion and quickly spiral Michigan's economy into a recession. 
"If we were to have a long strike in 2023, the state of Michigan and parts of the Midwest would go into a recession," said Patrick Anderson, chief executive officer of Anderson Economic.
Anderson said, "When GM workers went on strike in 2019, you saw gross state product drop in Michigan in the fourth quarter, while in the rest of the country it was largely unaffected. That won't be the case this time if the UAW goes through on its threat to strike all three companies."
Here's Anderson Economic's economic loss forecast for a ten-day strike: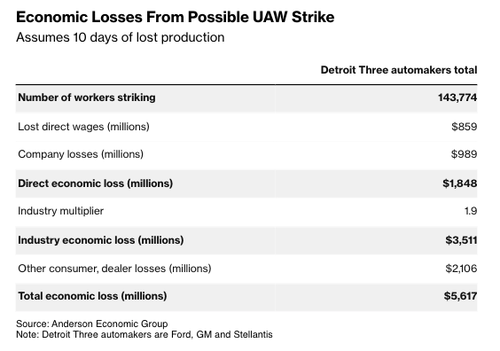 Any such labor action could be bad news for car buyers as it would cause some models to soar in price due to scarcity issues. However, the walkout could send key commodity prices lower, especially hot-rolled steel. 
Charlie Chesbrough, senior economist at Cox Automotive, said major automakers have about 58 days' worth of inventory. He said, "I don't know that a couple of weeks would have a noticeable impact in the marketplace." 
Chesbrough said it would be a different story if the strike "goes on for a couple of months," indicating supply chain snarls as ones experienced during Covid could reemerge. 
What became evident last week is that the labor contract offers from all three automakers to UAW fell significantly short of the union leader's demands. UAW President Shawn Fain described GM's labor contract proposal as "insulting."
The only issue with unions demanding higher wages, and some even succeeding, such as UPS Teamsters locking in a handsome contract for their delivery drivers, comes when the Federal Reserve is trying to cool inflation. And if unions get what they want, this will make the Fed's job even harder. 
Loading...