---
Yellow Files For Bankruptcy, Blames Union For "30,000 American Jobs lost"
One of the biggest bankruptcies in US trucking history occurred Sunday when the nation's third-largest less-than-truckload carrier, Yellow Corp., filed Chapter 11 in a Deleware court. The company has fallen victim to insurmountable debts, including a government loan and tense contract negotiations with the Teamsters Union. It listed assets and liabilities at $1 billion-$10 billion, with more than 100,000 creditors. 
"It is with profound disappointment that Yellow announces that it is closing after nearly 100 years in business," said Yellow CEO Darren Hawkins in a statement Sunday. 
Hawkins continued, "Today, it is not common for someone to work at one company for 20, 30, or even 40 years, yet many at Yellow did. For generations, Yellow provided hundreds of thousands of Americans with solid, good-paying jobs and fulfilling careers."
Yellow's bankruptcy marks the largest filing in US trucking history. The firm was responsible for roughly 15% of major corporations' less than truckload. It has struggled with a sizeable debt load and changing consumer habits in a post-Covid environment. Yellow has $1 billion in debt due in 2024 alone and has struggled to find common ground with the Teamsters Union.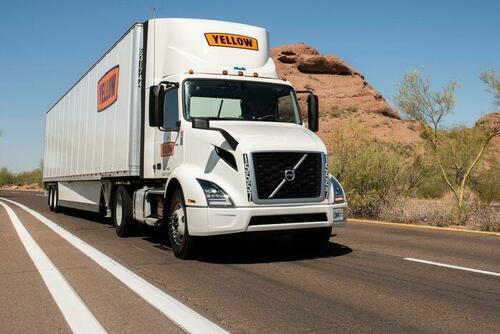 The Nashville-based company had 30,000 employees nationwide, with the union representing about 22,000 of those employees. Last week, the company notified its labor force about bankruptcy plans. 
Hawkins blamed the union for the company's failure:
"We faced nine months of union intransigence, bullying and deliberately destructive tactics." 
Yellow asked the Delaware court for permission to make payments, including employee wages and benefits, taxes, and certain vendors essential to its businesses. 
Much of Yellow's business halted weeks ago when it stopped making pickups. It axed most non-union employees and closed its yards at the end of July. 
Stifel research director Bruce Chan said the demise of Yellow has been "two decades in the making," blaming poor management and strategic decisions from the early 2000s. 
For the overall trucking industry, Amit Mehrotra with Deutsche Bank said the collapse of Yellow is "clearly very positive for the companies that remain open for business." He listed Old Dominion, Saia, CSX, and FedEx among other top picks in the industry. 
Yellow shares trading in New York plunged more than 26% on the news. This followed a 781% surge from about 50 cents on July 27 to a high of $4.34 last Thursday. 
Here's the press release Yellow published on Sunday titled "International Brotherhood of Teamsters Drives Nearly 100-Year-Old Company Out of Business 30,000 American Jobs Lost": 
Loading...