---
A Soda-A-Day Could Result In Liver Cancer; New Study Finds
It's no secret that sugar-sweetened beverages cause obesity, but new research shows just one soda a day won't keep the doctor away. In fact, soda pop might increase the risks of cancer and liver disease-related mortality. 
Researchers from Brigham and Women's Hospital, a founding member of the Mass General Brigham healthcare system, published a study titled "Sugar-Sweetened and Artificially Sweetened Beverages and Risk of Liver Cancer and Chronic Liver Disease Mortality" in the Journal of the American Medical Association on Tuesday, explaining a possible link between the regular consumption of sweetened drinks and death due to liver cancer. The study involved nearly 100,000 postmenopausal women followed for a median of twenty years. 
The study's lead authors, Dr. Longgang Zhao, Ph.D., a postdoctoral fellow at Brigham and Women's Hospital, and Xuehong Zhang, ScD, associate professor at Harvard Medical School and Brigham and Women's Hospital, revealed participants who consumed sugar-sweetened beverages daily had a chronic liver disease mortality rate of 17.7 per 100,000 person-years. In contrast, this rate decreased to 7.1 for individuals who consumed such drinks three times or less monthly. No significant cancer risk was observed for artificially sweetened beverages.
"In postmenopausal women, compared with consuming 3 or fewer servings of sugar-sweetened beverages per month, those who consumed 1 or more sugar-sweetened beverages per day had a higher incidence of liver cancer and death from chronic liver disease," the researchers said. 
They added, "Future studies should confirm these findings and identify the biological pathways of these associations."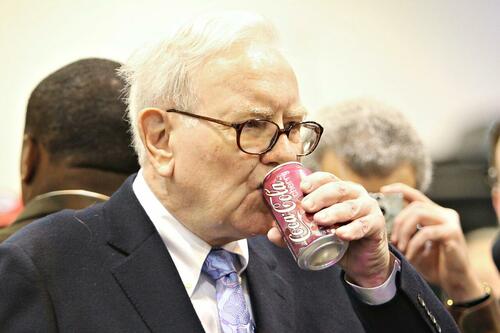 The research comes as 'fat acceptance' seeks to eliminate the social stigma of morbidity obese people while some snack on processed foods and soda pop from mega-junk-food corporations. We wonder who exactly is funding that movement... 
While it's being revealed that many of the ultra-processed foods and soda pop have been linked to obesity, Type 2 diabetes, and other chronic diseases -- there's a movement among institutional investors with stakes in the world's largest food company, Nestlé, who have called on the company to improve its portfolio of unhealthy food and drinks. 
Maybe all the climate alarmist ESG folks need to refocus their attention on the health of the masses who are fed ultra-processed foods like cattle, which has triggered an epidemic of obesity. 
But how dare we even bring that up as Wall Street and the pension funds profit off fat America with Novo Nordisk hitting a record high on its new obesity drug Wegovy.
Loading...