---
First US Abrams Tanks Arrive In Ukraine, Officials Admit They "Risk Being Destroyed"
Ukrainian President Volodymyr Zelensky has confirmed reception of the first delivery of US Abrams battle tanks, after President Biden last week made it clear they would finally arrive within days of his meeting with Zelensky at the White House.
"Good news from Minister (of Defence) Umerov. Abrams are already in Ukraine and are being prepared to reinforce our brigades," Zelensky announced on Telegram. His hope is that it will boost Ukrainian forces amid the stalled offensive, as US officials have said the arrival was "months ahead of estimates, and in time to be used in Ukraine's counteroffensive against Russia."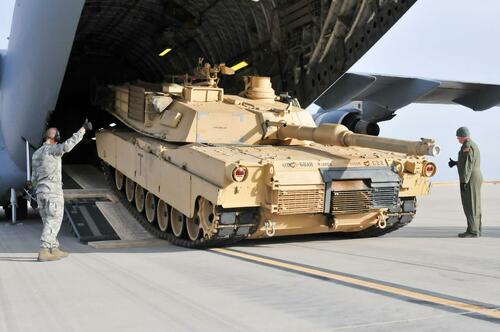 A group of Ukrainian tank operators and their support crew reportedly wrapped up training by late August, and it's believed that a likely ten of the 31 Abrams committed have now been delivered as of Saturday.
Two US official explained to The New York Times:
More M1 Abrams tanks will be sent in the coming months, the officials said, noting that those that were shipped into Ukraine on Saturday represented the first of 31 that the Biden administration has promised to send. The officials would not say how many have been delivered so far.

The Abrams will be among other tanks in Ukraine's arsenal that it could use to push into, and possibly reclaim, Russian-held territory in Ukraine's eastern and southern regions, where fighting has ground on for months without major breakthroughs. But Kyrylo Budanov, the head of Ukraine's military intelligence, has warned that the Abrams would need to be deployed "in a very tailored way, for very specific, well-crafted operations," or risk being destroyed.
Indeed Moscow has declared open season on Western-supplied tanks and equipment, and has already had battlefield succusses in destroying some of them.
For example, the UK Challenger II and Germany's Leopard, have thus far made little discernable difference along the stalemated front lines. At least one or more UK Challengers were destroyed, it was confirmed early this month. This was a first for the Challenger II in its history of production, as British defense officials later conceded.
There are also fresh Russian media reports that another Leopard tank has been disabled, and that some Germany operators have been captured (though these reports remains unverified): 
Scouts of the Russian Armed Forces destroyed a Leopard tank transferred to Ukraine with an entirely German crew consisting of servicemen of the German Armed Forces.

"When we stopped their "meat" assault and captured Leopard, we moved towards the burnt equipment in the hope of… pic.twitter.com/28yVlTWe8X

— Olga Bazova (@OlgaBazova) September 23, 2023
Russia maintains firm hold over much of the east, has dug it its positions, and established miles of deadly mine fields. The NY Times agrees it is going to be difficult to advance even with the Abrams: 
If they are simply sent to the front lines to try to punch through Russian defenses, General Budanov said last week in an interview with an American military blog, "they will not live very long on the battlefield. They need to be used in those breakthrough operations, but very well prepared."
The Pentagon had previously announced that "The U.S. is committed to expedite delivery of the 31 tanks to Ukraine by the fall." By then it could already become clear whether or not the US Abrams will make any level of difference on the battlefield for Kiev.
Loading...