---
Ukraine Expects To Deploy F-16s This Winter, But Pentagon Still Skeptical
For the past several months there have been conflicting reports covering the expected timeline for F-16 delivery and deployment in Ukraine. These reports have have focused on the delayed and slow-to-start training program for Ukrainian pilots, which even includes technical English language classes related to the advanced jet's components and weapons systems.
A Europe-hosted training program has been based in Denmark, while the Pentagon has also recently previewed a near-future training program will kick off at US air bases in Texas and Arizona. Starting in May, President Biden reversed course on prior US resistance to supplying F-16s for Kiev. At that point he signed off on a training program, and then by August formally endorsed third party countries' ability to ship the Lockheed-produced jets to Kiev.
As it stands, Denmark and the Netherlands have committed to supplying 61 total F-16s to Ukraine between them both. But all of this was seen by the Zelensky government as too little, too late in terms of helping the now faltering counteroffensive. Pilot training has just started, and will run for many months.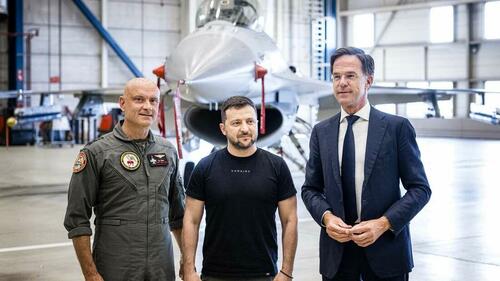 But the timeline could once again be moved up and hastened, after Kiev lashed out over Europe and Washington feet-dragging on the training program. 
The Wall Street Journal reported over the weekend that Ukraine now expects to be flying F-16s in combat this winter.  "Kyiv's military leaders say they could have Ukrainian pilots flying F-16s in combat as early as this winter, a more optimistic timeline than previous estimates, and one that could give Ukrainian forces a significant new capability for next year's fight," WSJ wrote. 
"Based on initial assessments, Ukrainian officials now believe that with American training expected to begin this month or next, a handful of Ukrainian fighter pilots could be ready to go as early as February, Ukrainian and U.S. officials said.
This follows on the heels of the Pentagon confirming it will host some half-dozen or more Ukrainian pilots for training at facilities in the US. "The U.S. could train experienced, English-proficient Ukrainian pilots in as little as five months, a group of likely fewer than 10 pilots for now, according to Ukrainian assessments," the WSJ report added.
But military sources speaking to the Journal outlined the major obstacles remaining, and which may still push this "optimistic" timeline of a winter rollout of deployed F-16s: 
U.S. officials, meanwhile, have been more conservative in their timeline of getting the F-16s ready for combat. They stress the large maintenance and logistical force needed to keep the advanced jets in the fight in addition to the training burden. Even experienced pilots trained on MiG-29s must learn the Western equipment, including weapons and communications systems. U.S. officials have said Ukrainians wouldn't be ready to fly F-16s in combat until at least mid-2024, and possibly much later. 

"To get proficient in the F-16, that's not going to happen overnight," Gen. James Hecker, the top Air Force commander in Europe, told reporters last month. To get "a couple squadrons of F-16s, and to get their readiness high enough, and their proficiency high enough…could be four or five years down the road."
These comments by Gen. Hecker also highlight that even if Ukrainian pilots are minimally ready to get F-16s operational over the skies of Ukraine, being thrust into the middle of actual combat with no such prior experience seems a dubious scenario at best.
But Zelensky and his officials have for months sounded a message of desperation, at times accusing the West of depriving Kiev of the more advanced weapons systems necessary to push out Russia. But at this point, even mainstream sources in the US, UK, and Europe have admitted the much-hyped counteroffensive to be a failure. 
F-16s next?
🇬🇧 British Army chief felt 'emotional tug' seeing Challenger 2 destroyed in Ukraine.

He also says the UK should switch the training of conscripts from a quantative to a qualitative model. pic.twitter.com/oJ0xaPafqD

— Lord Bebo (@MyLordBebo) September 10, 2023
There's another major "risk" that the Western allies might not be taking into consideration. In recent weeks, the European and American public have beheld for the first time Western main battle tanks burning on the frontlines in Ukraine, triggering global headlines such as "British Challenger 2 tank destroyed in combat for first time, Ukraine footage shows." 
Given Western tanks are burning in Ukraine, will it not be an even bigger blow to Kiev and its backers if and when US-made F-16s are falling from the skies? 
Loading...