---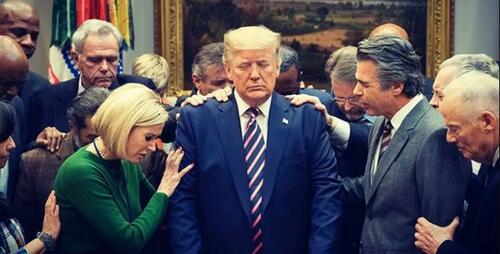 Trump's Third Indictment 
Here are some of the most insightful initial reactions to Trump's latest indictment. In a subsequent post, we may drill down bit more into the indictment itself. 
The Ricky Vaughn Connection
The Biden DOJ's indictment of a meme-maker was the first shot in its lawfare campaign against Trump. 
we are living in a society pic.twitter.com/HmB8btv4zz

— Zero HP Lovecraft 🦅🐍 (@0x49fa98) August 2, 2023
For readers who don't recall Ricky Vaughn:
Via @myth_pilot, an inside account of the trial that convicted Douglass Mackey (aka Ricky Vaughn), and a look at his appeal. https://t.co/LOtvTQotSy

— Portfolio Armor (@PortfolioArmor) July 5, 2023
The Indictment
Thoughts on the absurdity of it. 
A sitting president, who himself likely committed multiple felonies, has indicted a former president and his chief political rival, on trumped up charges. This type of corruption is expected in banana republics, but who would've believed it was possible in The Good Ol' U.S. of A!

— Peter Schiff (@PeterSchiff) August 1, 2023
The theories in this indictment could have been used to indict Al Gore and his entire legal team in 2000. They could also have been used to indict George Bush and his entire legal team in 2000. They could have brought these same charges against the Florida Supreme Court in 2000.

— tod (@as_a_new_guy) August 1, 2023
I've now read the new Indictment twice. It is criminalizing speech, thought, legal (right or wrong) positions, and disinformation. It also is shockingly manipulative of statutes and theories which require enormous legal wrangling.

— Brett L. Tolman (@tolmanbrett) August 1, 2023
In 1876 Jack Smith would have indicted Rutherford B. Hayes & "ringleader" Rep William E. Chandler for conspiracy.
Instead, when pressed Congress figured it out - just like the Constitution demands. Criminalizing Trump's attempt to dispute the election is anti-Constitution. pic.twitter.com/kZzSpDQY3p

— Matt Beebe (@TheMattBeebe) August 1, 2023
Trump was continuing to perpetrate the grand criminal conspiracy by tweeting out "Stay peaceful!" and "No violence!" on January 6, according to the brilliant legal mind of Jack Smith pic.twitter.com/lhqzyoUmi8

— Michael Tracey (@mtracey) August 2, 2023
The Timing
Indictments end Biden crime news cycles. 
Biden bank statements showing millions from China/Ukraine

Trump indicted in NY next week

Congress announces whistleblower testimony

indicted in FL next day

Hunter's partner testifies Joe is the big guy & was on speakerphone in meetings

indicted in DC next day

See a pattern?

— James Law (@jlawheartselon) August 1, 2023
The Stakes
This is not about helping Trump to win the GOP primary. This is about destroying Trump and everything he represents. They want him in jail, no matter what. https://t.co/DUvw1bfqgj

— Scott Greer 6'2" IQ 187 (@ScottMGreer) August 1, 2023
As we impatiently wait for news about J6 indictment against Trump, as I've said, this isn't about the 2020 election.

It's about the 2024 election.

DOJ is successfully criminalizing any attempts to investigate voter fraud, protest the results, file lawsuits, raise money, etc.

— Julie Kelly 🇺🇸 (@julie_kelly2) August 1, 2023
https://t.co/5ZVHlalFLu pic.twitter.com/1w3rnLf1Es

— David Pinsen (@dpinsen) August 2, 2023
The Judge
'Objective' justice can only exist in a coherent society where disagreements are ultimately trivial. Then passions won't dictate rulings.

That's not this society. The mass migration, polarization, means that's over. This judge wouldn't even understand objective justice. https://t.co/h4jQ6qTKqI

— FischerKing (@FischerKing64) August 2, 2023
All three judges handling Trump's three criminal cases are people of color born outside the United States.

Aileen Cannon (classified docs) and Juan Merchan (hush money) were born in Colombia. Tanya Chutkan (federal election conspiracy) was born in Jamaica.

— James Romoser (@jamesromoser) August 2, 2023
Democracy is when a foreign born affirmative action judge decides whether or not to jail you depending on whether your speech hurts her feelings.

— James Kirkpatrick (@VDAREJamesK) August 1, 2023
DeSantis
Reactions to DeSantis's response to the indictment.
Your state has more J6 defendants than any other. They have been targeted by this DOJ exactly the same as Donald Trump or any other high profile Republican. They needed help. None of them have heard from you or any other elected official in Florida.

— Brandon Straka (@BrandonStraka) August 2, 2023
If DeSantis wanted to win, he would've made this much shorter and just promised a pardon. Instead, he talks in abstraction and doesn't even mention Trump. This is why he will never win. https://t.co/HZrE39JdnS

— Scott Greer 6'2" IQ 187 (@ScottMGreer) August 1, 2023
The Bright Side
Former Trump staffer Darren Beattie predicts the Supreme Court will ultimately toss the indictment. 
Prediction: trump will file motion to dismiss. Affirmative action judge will deny. Trump will appeal and SCOTUS and toss it out before trial.

— Darren J. Beattie 🌐 (@DarrenJBeattie) August 2, 2023
If Trump had no chance of winning in 2024, why would they keep coming after him? 
Look on the bright side, guys. If they knew with 100% certainty that they could rig the election, they wouldn't be putting Trump in prison.

— Mr. ✘ (@GlomarResponder) August 2, 2023
Back To Business
This week is jam-packed with earnings releases, and we've got eight trades teed up on companies reporting after the close today or before the open Thursday: four bullish, and four bearish.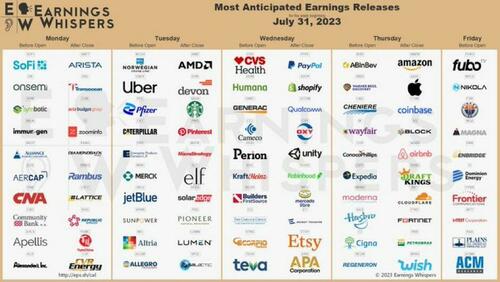 If you want a heads up when we place those trades, feel free to sign up for our trading Substack/occasional email list below. 
If You Want To Stay In Touch
You follow Portfolio Armor on Twitter here, or become a free subscriber to our Substack using the link below (we're using that for our occasional emails now). You can also contact us via our website. If you want to hedge, consider using our website (our iPhone app is currently not available to new users).  
Contributor posts published on Zero Hedge do not necessarily represent the views and opinions of Zero Hedge, and are not selected, edited or screened by Zero Hedge editors.
Loading...