---
US New Home Sales Tumble In June, Prices Tumble
After three straight months of huge resurgence (with last month's massive spike), new home sales were expected to slow down in June and they did. New home sales dropped 2.5% MoM (the first drop since Feb), a miss from the 5% expected, but only because last month's 12.2% surge in sales was revised down to a 6.6% rise...
Source: Bloomberg
The huge downward revisions make a mockery of the last few months data that has been used as a crutch by bulls to support their case that the housing market is 'fine' despite the collapse in existing home sales...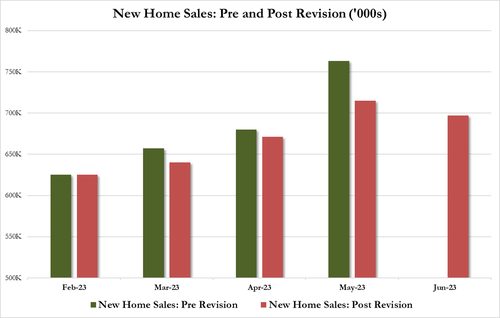 New home sales are still up almost 24% YoY but the total new home sales SAAR plunged in June - is this the start of the catch-down to existing home-sales slump?
Source: Bloomberg
Median new home price fell 4.0% y/y to $415,400; average selling price at $494,700.
Other data - from the US Census Bureau - shows the first half of 2023 has seen the largest decline in US home prices on record...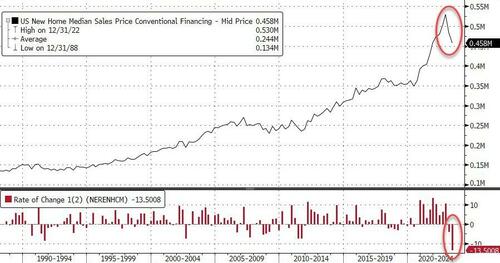 Finally, we ask, if homebuilders are so bullish on this recovery in new home sales, why aren't they grabbing permits to build with both hands?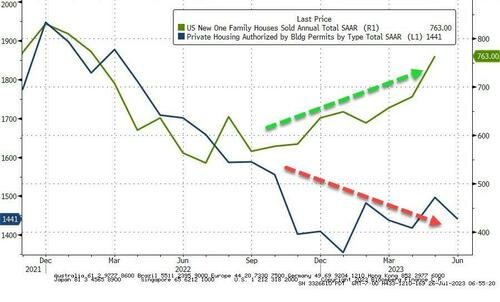 Source: Bloomberg
Have they reached the limits of incentivization?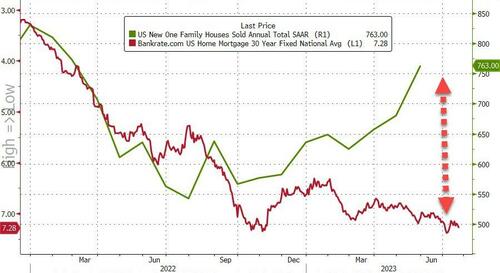 Source: Bloomberg
With mortgage rates back at cycle highs - well above 7.00% - the cost of 'vendor-financing' new home sales will eat into margins sooner rather than later.
Loading...