---
Epstein-Linked Apollo Sued Over 'Improper' $570 Million Executive Payments To Cover Tax Bills
Apollo Global Management is being sued by shareholders over an 'improper' distribution to executives of roughly $570 million to cover tax obligations.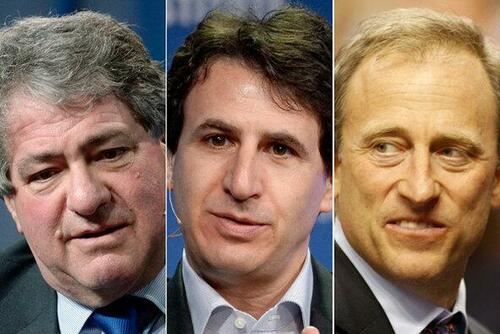 Recall that Apollo founder Leon Black was forced out over revelations that he had paid $158 million for tax advice and other professional services from dead sex offender pedophile Jeffrey Epstein. According to the lawsuit reported by the Financial Times, Black is in line to receive roughly $276 million from Apollo coffers.
This is not just any lawsuit. This is a derivative lawsuit filed by the Anguilla Social Security Board on behalf of Apollo itself. Translation: Even shareholders think Apollo's board is too morally compromised to act in the company's best interests.
Few things are funnier than Apollo founder Leon Black paying Jeffrey Epstein $158 million for "tax work"

— zerohedge (@zerohedge) August 16, 2023
The lawsuit shines a light on what it claims was an extremely hasty approval process conducted by a "conflicts committee" made up of close friends and business associates of Apollo's co-founders, Leon Black, Marc Rowan, and Josh Harris. The committee allegedly approved hundreds of pages of complex documents within hours, conveniently without keeping minutes for most of its meetings.
According to the complaint, the three founders allegedly "concocted a series of untenable justifications" for the $570 million payout after realizing they might face hefty tax bills if they followed through with an investor-friendly proposal to nuke the firm's dual-class share structure which gave them control.
But according to a complaint filed in Delaware Chancery Court on Wednesday, "there was no legitimate reason to pay the founders' personal taxes", and an aggrieved Apollo shareholder, the Anguilla Social Security Board, has alleged that the Apollo board breached its fiduciary duties and it has demanded that the money be returned to the company.

...

Drawing on emails and internal documents given to the Anguilla board under a court order prompted by earlier litigation, the lawsuit makes claims about the final days of a decades-long compact between three men who built one of the most lucrative groups on Wall Street. -FT
After Black was pushed out in a leadership scuffle which he blamed on Harris, the lawsuit claims that the three billionaires coordinated on a series of proposals which would make them even wealthier.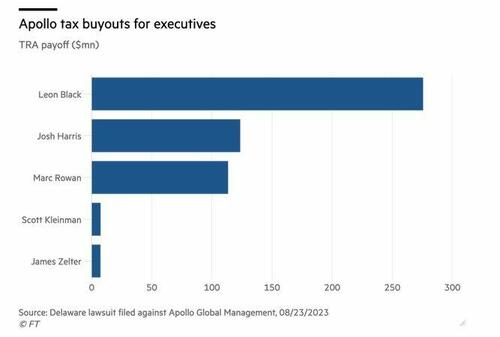 One of the proposals allegedly included payment from Apollo in exchange for eliminating a "tax receivable agreement" that controlled what would happen if the three gave up the private partnership units in which their Apollo stakes were held - and would instead award them with the company's publicly traded shares.
While normally such "taxable exchanges" would have cost the founders, it would, in theory, result in a tax-deductible expense for Apollo. As part of the agreement, the group agreed to pay 85% of this tax savings back to the founders - who argued they should be compensated for giving up that agreement, according to internal documents cited in the plaintiffs' suit.
he complaint goes on to criticize close ties between Apollo executives and the so-called independent directors, noting one director's not-so-subtle email asking for help to get his son into Harvard "without creating a…Varsity Blue taint."
Last week former Apollo director - a former investment banker and Microsoft dealmaker, Richard Emerson, resigned last week. Shortly after his 2021 appointment, Emerson wrote to Harris - who has since left Apollo - asking for the Harvard hookup.
Loading...