---
'Corrupt Ukrainian Prosecutor' Biden Had Quid-Pro-Fired Was Praised By US Govt Months Before
A major hole has been blown in Joe Biden's fired Ukrainian prosecutor story.
New US government memos obtained by Just the News through a FOIA lawsuit reveal that the Obama Administration was still actively communicating with former Ukrainian Prosecutor Victor Shokin after Biden's December 2015 threat to withhold $1 billion in US aid unless then-President Petro Poroshenko fired him.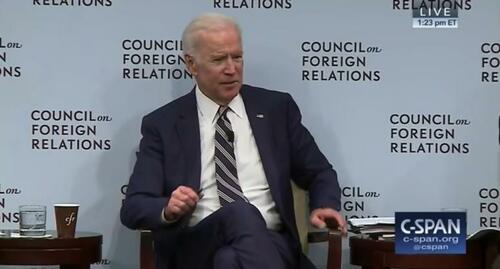 The memos, obtained by Just the News via FOIA lawsuit, reveal:
Senior State Department officials sent a conflicting message to Shokin before he was fired, inviting his staff to Washington for a January 2016 strategy session and sent him a personal note saying they were "impressed" with his office's work.
U.S. officials faced pressure from Burisma emissaries in the United States to make the corruption allegations go away and feared the energy firm had made two bribery payments in Ukraine as part of an effort to get cases settled.
A top U.S. official in Kyiv blamed Hunter Biden for undercutting U.S. anticorruption policy in Ukraine through his dealings with Burisma.
To review - starting in 2015, Ukraine's top prosecutor, Viktor Shokin, had an active and ongoing investigation into Burisma and its owner, Mykola Zlochevsky, according to a 2020 US Senate Committee report.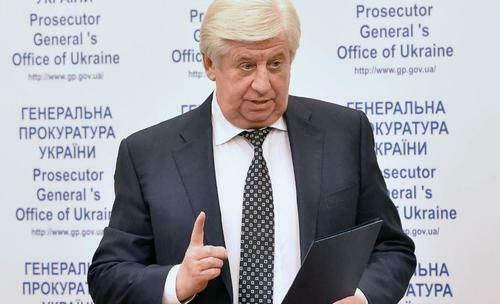 You may recall Zlochevsky from such hits as 'the Bidens coerced me to pay $10 million in bribes,' and 'I've got 17 recordings of the Bidens as insurance.'
Zlochevsky, who hired Hunter Biden to sit on his board, granted his own company (Burisma) permits to drill for oil and gas in Ukraine while he was Minister of Ecology and Natural Resources. Shokin stated in a 2019 deposition that there were five criminal cases against Zlochevesky, including money laundering, corruption, illegal funds transfers, and profiteering through shell corporations while he was a sitting minister.
Shokin's days were numbered...
In July 2015, US Ambassador Geoffrey R. Pyatt began smearing Shokin, according to the deposition.
"US Ambassador Geoffrey R. Pyatt told him that the investigation [into Zlochevsky] has to be handled with white gloves, which according to Mr. Shokin, that implied do nothing. On or about September 2015 Mr. Pyatt gave a speech in Odessa where he stated that the cases were not investigated correctly and that Mr. Shokin may be corrupt."
In December, 2015 - leaked audio provided by Ukrainian MP Andrii Derkach revealed that former Secretary of State John Kerry was laying out the case for Shokin's ouster to former Ukrainian President Petro Poroshenko, saying that Biden is "very concerned" about the lack of reform in the prosecutor general's office.
In February 2016, the US Senate provided more cover for then-VP Biden, pushing for reforms to the Ukrainian prosecutor general's office on the basis that it was corrupt. Yet, that same month, "warrants were placed on the accounts of multiple people in Ukraine. There were requests for information on Hunter Biden to which nothing was received," according to Shokin.
Also in February 2016, less than three months after the Kerry conversation- Poroshenko delivers some "positive news" to Biden despite the fact that "we didn't have any corruption charges" or "information about him doing something wrong," referring to SHokin.
"Yesterday I met with General Prosecutor Shokin," says Poroshenko. And despite of the fact that we didn't have any corruption charges, we don't have any information about him doing something wrong, I specially asked him - no, it was day before yesterday - I specially asked him to resign. In, uh, as his, uh, position as a state person. And despite of the fact that he has a support in the power. And as a finish of my meeting with him, he promised to give me the statement on resignation. And one hour ago he bring me the written statement of his resignation. And this is my second step for keeping my promises."

To which Biden replied: "I agree."
In April 2016, Shokin stated that Poroshenko "called him and told him he had to be fired as the aid to the Ukraine was being withheld by Joe Biden. Mr. Biden told Mr. Poroshenko that he had evidence that Mr. Shokin was corrupt and needed to be fired. Mr. Shokin was dismissed in April of 2016 and the US aid was delivered within one and one half months."
And then in November 2016, Biden threatens Poroshenko with the $1 billion US loan guarantee.
Shokin was then fired, which Joe Biden openly bragged about in 2018.
"I looked at them and said: 'I'm leaving in six hours. If the prosecutor is not fired, you're not getting the money,'" Biden said."I'm telling you, you're not getting the billion dollars," unless they immediately sacked Shokin. To the glee of his CFR listeners who laughed audibly, Biden added, "Well, son of a bitch. He got fired!"
So as Shokin chased Hunter Biden's employer, his father - the Vice President of the US, with the support of a US Ambassador and the US Senate - made their case for Shokin's ouster - despite the fact that US officials maintained positive communications with Shokin's office (and praised him) right up until that point.
Oh - and the guy who replaced Shokin, Yuriy Lutsenko, backed him up. According to a January 2019 deposition taken by Rudy Giuliani and associates which was released by the US State Department, Lutsenko "went on to say that he began looking at the same case Mr. Shokin was looking at (mentioned above) and he believes Hunter Biden receives millions of dollars in compensation from Burisma. He produced a document from Latvia that showed several million dollars that were distributed out of Burisma's account. The record showed two (2) companies and four (4) individuals receiving approximately sixteen million dollars in disbursements as follows:
Companies:
Wirelogic Technology     $14,665,982
Digitex                         $1,900,000
Individuals:
Alexsander Kwasnewski $1,150,000
Alan Apter                    $302,887
Devon Archer   Amount not revealed by Latvia
Hunter Biden   Amount not revealed by Latvia
"Mr Lutsenko stated that there was also a payment of $900,000 to Rosemont Seneca Partners LLC for consulting fees. Hunter Biden is a partner in Rosemont Seneca Partners LLC along with Devon Archer and the dates of this transaction are approximately anywhere from January to December 2015. According to Mr. Lutsenko the $900,000 invoice was for services rendered for lobbying by Joe Biden."
And of course, we now know that it was much, much more. And let's not forget that former President Donald Trump was impeached by the Democrats for asking about the above.
That aged well, no?
Loading...