---
Costa Rica Declares State Of Emergency As Migrant Crisis Rocks Americas
Costa Rica's President Rodrigo Chaves declared a state of emergency on Tuesday as the number of migrants passing through the Central American country on the way toward the US surges, Reuters reported. 
"I have instructed the security ministry to take a firm stance with anyone who takes Costa Rica's kindness for weakness," Chavez older reporters, referring to recent riots caused by migrants crossing the country.
Chavez explained the tsunami of migrants is coming from Ecuador, Venezuela, Colombia, Haiti, Yemen, Bangladesh, and even China. He noted, "We all know that throughout the Americas there is a migration crisis." 
Since the beginning of the year, nearly 400,000 migrants have crossed the border from Panama into Costa Rica. 
The migrant crisis is only going to escalate moving forward. Biden's complete lack of action has signaled to millions that American's borders are completely open and the blue states' decisions to subsidize them with free housing, jobs and care might as well be a red carpet… https://t.co/wKdiAFEvWG

— Ian Miles Cheong (@stillgray) September 27, 2023
Costa Rica's migrant chaos comes as President Biden's disastrous open southern border crisis has sparked a record-breaking month for August. According to the US Customs and Border Protection, 232,972 migrants were encountered at the US-Mexico border in August. 
Biden greenlighted migrants worldwide in a June 20 statement marking World Refugee Day: "Welcoming refugees is part of who we are as Americans – our nation was founded by those fleeing religious persecution. When we take action to help refugees around the world, and include them, we honor this past and are stronger for it."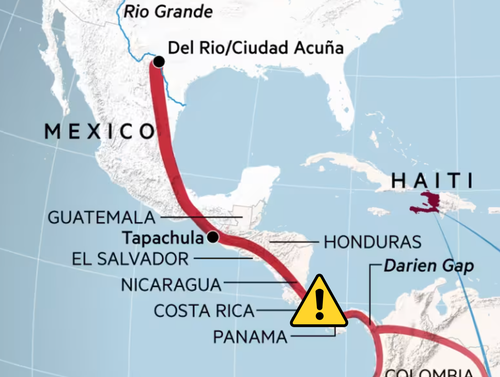 In recent weeks, all hell has broken out at Eagle Pass, Texas, and other border crossings as migrants flood the southern border via an easy commute through Mexico by freight train. 
Holy sh*t.

New video shows a massive train loaded with illegal migrants headed for the US border.

pic.twitter.com/t5GjpbkIar

— End Wokeness (@EndWokeness) September 17, 2023
NEW - Drone footage reveals hundreds of migrants on trains headed for Eagle Pass, Texas, and the U.S. southern border.pic.twitter.com/avYTTWx0he

— KanekoaTheGreat (@KanekoaTheGreat) September 26, 2023
Waves of undocumented migrants have disembarked from the trains in Mexico and are hiking the final 20 miles in to Eagle Pass, Texas. pic.twitter.com/4ZUUHBMnja

— Citizen Free Press (@CitizenFreePres) September 27, 2023
Law-abiding taxpayers need to ask why the Biden administration is pushing disastrous open border policies to flood illegals into metro areas ahead of the presidential election. These devastating policies are against the will of the majority and only supported by a fringe minority of political elites and progressive billionaires. 
Loading...