---
The 'Kitchen Sink' Is McCarthy's Only Path To Avoid Shutdown, And It Probably Won't Work
You wanted the job, Kevin...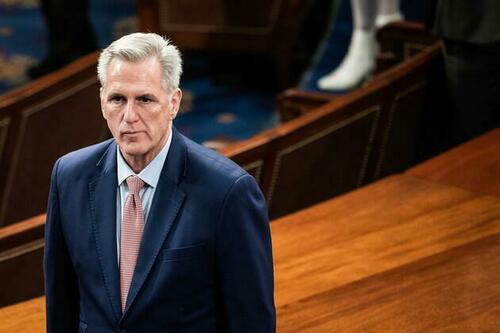 With a shutdown looming in just over a week, House Speaker Kevin McCarthy (R-CA) has backed himself into a corner.
On Tuesday, House Republicans were forced to cancel a procedural vote for a 30-day stopgap funding measure (Continuing Resolution) to keep the government's lights on beyond Sept. 30. Hours later, five GOP lawmakers crossed the aisle to vote with Democrats to bring down the rule for the Pentagon's spending bill.
As Punchbowl News puts it: "Tuesday was a bad day for McCarthy and House Republicans."
The problem for Kevin is that he needs votes from members of the Freedom Caucus, who are demanding that the CR be spliced up so that it doesn't fund 'the election interference of Jack Smith,' according to Rep. Matt Gaetz (R-FL). Gaetz also wants McCarthy to sign a subpoena to better investigation Hunter Biden's alleged "high crimes and misdemeanors," - with the Florida rep going so far as to draft said subpoena for McCarthy to sign.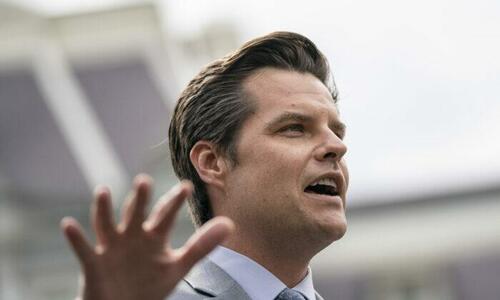 McCarthy can also throw a Hail Mary and pander to Democrats for the votes he needs to pass the CR, however doing so would likely seal his fate over a looming threat by Gaetz and others to remove him from his post.
Kitchen Sink?
The former Politico journalists at Punchbowl News - who have an uncanny read on inside baseball on the Hill, say that McCarthy's only solution here is to cave to the Freedom Caucus (which might still screw him!) with a "kitchen sink" approach of acquiescing to all of their demands.
McCarthy needs to take all of the conservatives' demands and lump them together into one 30-day funding bill. Ignore how far-fetched or illogical these proposals are and accept what they represent — a means to an end. -Punchbowl News
Freedom Caucus member Ralph Norman (R-SC) told the outlet that he'd vote for the CR if McCarthy will commit to a $1.47 trillion discretionary spending cap, and a schedule for the 11 remaining FY2024 appropriations bills during the 30 days to which the CR applies.
But the pain isn't over for McCarthy - even if he bends the knee and Freedom Caucus members agree to pass it, the bill will then head to the Senate, where they'll undoubtedly strip out key Republican demands, and send a revised bill back to McCarthy that will likely contain billions of dollars for Ukraine.
McCarthy will then need to sell the CR back to House Republicans, who will either need to accept the reality of a divided government to avert a shutdown, or not.
Oh, and the Freedom Caucus might still dick him...
BTW: Another weakness here is that there's no guarantee that McCarthy will be able to pass a CR even if he loads it up with House GOP priorities. There are a number of House Republicans — Reps. Matt Gaetz (Fla.), Matt Rosendale (Mont.), Ken Buck (Colo.), Andy Biggs (Ariz.), Dan Bishop (N.C.) and Tim Burchett (Tenn.) — who may vote no no matter what McCarthy does.

The bipartisan approach: If this were "The West Wing," McCarthy would walk into the Problem Solvers Caucus and hash out a deal to avert a shutdown (He'd also be talking to President Bartlet!) Yet this is real life, not a TV show. And yes, McCarthy could easily pass a CR with a big bipartisan majority.

But this approach would likely threaten McCarthy's hold on the speaker's office. Gaetz is already leaving copies of his motion to vacate in bathrooms around the Capitol. If McCarthy partners with Democrats, Gaetz may want to move the motion from the loo to the floor. -Punchbowl News
Thus, Punchbowl thinks a shutdown is likely...
Loading...