---
McCarthy Won't Seek Speaker Position In Re-Vote; Trump Nominated By Nehls
Update (1920T): Newly ousted former House Speaker Kevin McCarthy (R-CA) will not seek reelection to the post when the chamber convenes to select a new candidate.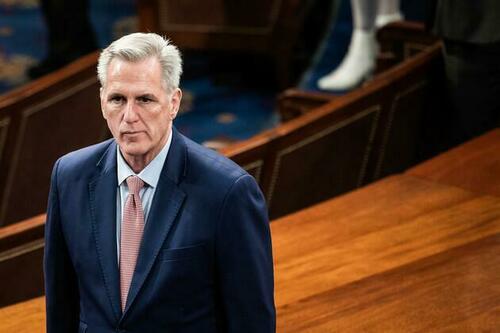 According to Just the News, "McCarthy was removing his name from consideration when the House convenes to select a new speaker."
Following McCarthy's ouster, Rep. Matt Gaetz (R-FL) called the former Speaker a "feature of the swamp."
"Kevin McCarthy couldn't keep his word. He made an agreement in January regarding the way Washington would work, and he violated that agreement. We are $33 trillion in debt. We are facing $2.2 trillion annual deficits," said McCarthy, adding "We face a de-dollarization globally that will crush Americans working class Americans. Kevin McCarthy is a feature of the swamp. He has risen to power by collecting special interest money and redistributing that money in exchange for favors."
JUST IN: Matt Gaetz calls Kevin McCarthy a "feature of the swamp" after reporter tells Gaetz that people think he is a narcissist.

"It's the benefit of this country that we have a better Speaker of the House than Kevin McCarthy."

"Kevin McCarthy couldn't keep his word. He made… pic.twitter.com/58I9DCFpjs

— Collin Rugg (@CollinRugg) October 3, 2023
Meanwhile, Congressman Troy Nehls has nominated former President Donald Trump for Speaker.
Kevin McCarthy will NOT be running again as Speaker.

I nominate Donald J. Trump for Speaker of the House.

— Congressman Troy E. Nehls (@RepTroyNehls) October 3, 2023
Here's where Goldman's Alec Phillips sees things:
The House has voted to remove Rep. McCarthy as speaker. House Financial Services Chairman McHenry (R-NC) will temporarily serve as caretaker speaker (speaker pro tempore) until a new speaker is elected. Legislative activity in the House will temporarily cease as Republicans reorganize. Selecting a speaker in January took 5 days, and it is possible the next selection could take several days as well.

Although possible, we think it is very unlikely that the House will remain without a leader until Nov. 17, when the recent extension of spending authority expires. In the unlikely event that the House remains without a speaker in mid-November, we believe the speaker pro tempore would have the power to bring another temporary funding extension up for a vote, though the rules are somewhat unclear on this point and would ultimately come down to a decision by the House Parliamentarian.

All other things equal, the leadership change raises the odds of a government shutdown in November, though with several weeks left until the deadline, many outcomes are possible. With many policy disputes remaining and a $120bn difference between the parties on the preferred spending level for FY2024, it is difficult to see how Congress can pass the 12 necessary full-year spending bills before funding expires Nov. 17. The next speaker is likely to be under even more pressure to avoid passing another temporary extension—or additional funding for Ukraine—than former Speaker McCarthy had been.

We continue to view a shutdown in Q4 as the base case, likely when funding expires Nov. 17. That said, while a leadership vacuum raises the odds of a government shutdown, we still view a prolonged shutdown (i.e., more than 2-3 weeks) as unlikely given the political consequences of certain aspects of a shutdown, particularly a failure to pay servicemembers, which occurs twice a month (the next pay date at risk is Dec. 1).
*  *  *
Update (1635ET): After eight tumultuous months of pandering and lies (according to Rep. Matt Gaetz), Kevin McCarthy has been removed as Speaker of the House for the first time in US history.
The final vote was 216-210.
🚨 "The office of Speaker of the House of the United States House of Representatives is hereby declared vacant"

pic.twitter.com/K3S3HbjU9Y

— Benny Johnson (@bennyjohnson) October 3, 2023
The last time the House tried to evict a speaker was 1910, which failed.
Rep. Patrick McHenry is now the acting speaker, as announced by the House Clerk. The next step is for the chamber to begin rounds of voting to elect a new Speaker, as we saw eight months ago.
He's just recessed the House so that the parties can meet and confer on a "way forward." It was quite the tantrum...
The Rep. Patrick McHenry gavel slam .... pic.twitter.com/TV1VGbkT7Y

— Howard Mortman (@HowardMortman) October 3, 2023
The speaker pro tempore is imbued with all the powers of an elected speaker of the House. McCarthy hand-picked McHenry (R-N.C.) for this role when he was elected speaker in January. The pro tempore is kept as a secret, held by the clerk of the House, until a speaker is removed or incapacitated, a process designed after Sept. 11, 2001, to ensure continuity of government. -Politico
BREAKING: Kevin McCarthy removed as 🇺🇸 US House Speaker, making him the shortest-serving since 1876. pic.twitter.com/yM8nxnvvnx

— The Spectator Index (@spectatorindex) October 3, 2023
OK -- here's what @bresreports and i expect

everyone will be looking to see if McCarthy tries to run for speaker again.

eight no votes may be too much to overcome -- and even if he could, he may not want the job anymore. we'll see.

once mccarthy is out, the real jockeying…

— Jake Sherman (@JakeSherman) October 3, 2023
And other last requests? https://t.co/yCjZ6SoiI0

— zerohedge (@zerohedge) October 3, 2023
Washington must change. We must put the House of Representatives on a better course.@SpeakerMcCarthy has failed to take a stand where it matters. So if he won't, I will.#MotionToVacate pic.twitter.com/hTW2e6bxtW

— Rep. Matt Gaetz (@RepMattGaetz) October 3, 2023
A "Fuck Around, Find Out" award winner in the U.S. House: the smack talk last night on X between @MattGaetz & @SpeakerMcCarthy before the former successfully engineered the latter's ouster as House Speaker pic.twitter.com/bBD4QmeSI7

— Marc Caputo (@MarcACaputo) October 3, 2023
Oh brother...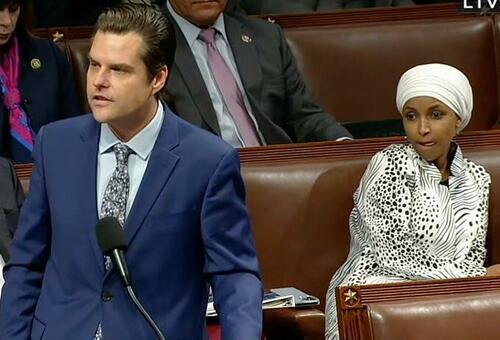 *  *  *
Update (1630ET): The House is now voting on the motion to remove McCarthy, and - unless Democrats intervene, Gaetz has enough votes to vacate him as Speaker after six Republicans voted 'aye' (Biggs, Buck, Burchett, Crane, Gaetz and Good).
Watch Live:
*  *  *
Update (1435ET): The House is now voting on whether to move forward with the ouster vote, or to 'table' it - which would save McCarthy.
Update: The 'motion to table' has failed, and the House will now move forward with debate ahead of a vote on Gaetz's effort to remove McCarthy.
*  *  *
Update (1323ET): It appears that House Speaker Kevin McCarthy may actually be out of a job, just eight months after he bent over backwards (and forward?) to land it.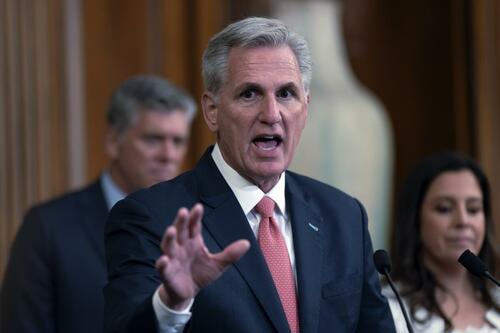 In a 'Dear Colleage' letter, House Minority Leader Hakeem Jeffries tells his 'troops' that "House Democratic leadership will vote yes on the pending Republican motion to vacate the chair."
DEAR COLLEAGUE from Jeffries

Given their unwillingness to break from MAGA extremism in an authentic and comprehensive manner, House Democratic leadership will vote yes on the pending Republican Motion to Vacate the Chair. pic.twitter.com/Mp11qFPPaJ

— Jake Sherman (@JakeSherman) October 3, 2023
House Dems are falling in line.
House Dems all falling in line behind Jeffries https://t.co/Vk6glRC7pe

— Jake Sherman (@JakeSherman) October 3, 2023
*  *  *
Days after narrowly averting a government shutdown by striking a secret side-deal with Democrats over Ukraine funding, Rep. Kevin McCarthy (R-CA) faces the biggest challenge to his Speakership by the same group of House conservatives who delayed his rise to power eight months ago.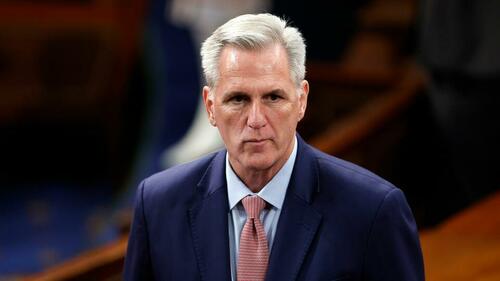 On Monday night, Rep. Matt Gaetz (R-FL) filed a motion to formally remove McCarthy from his role as speaker - a vote for which McCarthy says he'll get out of the way first thing today, while CNBC says the vote should begin at 2pm ET.
🚨BREAKING ... MCCARTHY SAID HE WILL BRING THE MOTION TO VACATE VOTE UP IN THE FIRST VOTE SERIES

— Jake Sherman (@JakeSherman) October 3, 2023
In short, only Democrats may be able to save McCarthy - who says he hasn't made any deals with the Democrats who he says "haven't asked for anything," following a Monday night call with House Minority leader Hakeem Jeffries (D-NY) - who will ultimately decide McCarthy's fate.
"They haven't asked for anything. I'm not going to provide anything" -- McCarthy on CNBC on what Dems want in order to help him stay speaker pic.twitter.com/P8oDhkZyAk

— Aaron Rupar (@atrupar) October 3, 2023
McCarthy: "If 5 Republicans go with Democrats, then i'm out."@rachelvscott: "That looks likely."
McCarthy: "Probably so."

— Jake Sherman (@JakeSherman) October 3, 2023
While the minority party in the House typically doesn't support the majority's choice for speaker, motions to vacate are rare - and this situation hasn't been seen in more than a century.
According to the Guardian, Gaetz and his allies have the votes to remove McCarthy.
In a notice to lawmakers, Democratic whip Katherine Clark's office said votes on the motion to vacate Kevin McCarthy from his position as speaker of the House could take place "at any time after the House convenes at 12:00 p.m. today."

Before voting on the motion itself, McCarthy's allies may move to table the proposal, which, if successful, would block the motion to vacate, and save McCarthy's speakership. That would need a simply majority to pass, and, the way the numbers are looking now, can't be achieved without Democratic help.
"Members should keep their schedules flexible and be prepared to vote at the appropriate time," reads the notice.
Gaetz and his Freedom Caucus allies were livid on Sunday after it emerged that McCarthy had made a secret side-deal with Democrats for more Ukraine funding, in exchange for passage of a continuing resolution that will keep the government running through mid-November.
Wow.@SpeakerMcCarthy made a side Ukraine deal with Democrats and didn't tell House Republicans until after his Continuing Resolution passed.

More deceit. https://t.co/LC91laLyTp

— Matt Gaetz (@mattgaetz) October 1, 2023
Developing...
Loading...