---
McCarthy Recycles Biden Impeachment Tease
Speaker Kevin McCarthy says House Republicans might consider launching an impeachment inquiry into President Joe Biden when the House comes back from vacation.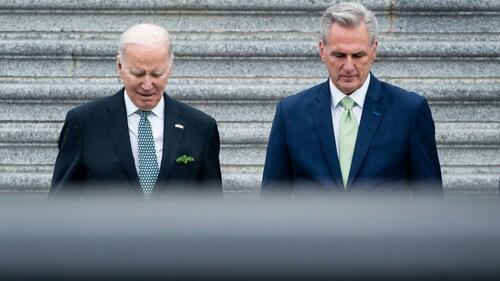 To review, the president of Ukrainian energy giant Burisma was allegedly coerced by the Bidens to tune of $10 million - and has 17 recordings of Biden dealings for 'insurance,' on top of Hunter Biden's exorbitant board seat, in exchange for Biden abusing his office to provide Burisma with political cover - according to an FBI document that the agency stonewalled on until the absolute last second.
Donald Trump was impeached for asking Ukraine about it.
And McCarthy says House Republicans are 'thinking about' going after Biden - something he said four weeks ago, after House investigators revealed over $20 million in payments they claim foreign actors from places like Russia, Ukraine and Kazakhstan sent the Biden family and their associates while Joe Biden was vice president.
"The thing that holds up whether we'll do an impeachment inquiry: Provide us the documents we're asking," McCarthy told Fox News Tuesday night. "But if they withhold the documents and fight like they have now to not provide to the American public what they deserve to know, we will move forward with impeachment inquiry when we come back into session."
"The whole determination here is how the Bidens handle this."
Oh, so if the Biden administration coughs up a list of requested documents, House Republicans might think about impeaching Biden?
"The only reason you know of all this information is because we took the majority and we're holding the administration accountable. It is appalling what we have learned. It is different from what President Joe Biden has told us," McCarthy told host Larry Kudlow, filling the room with hot air.
"The only stories that have not changed are the whistleblowers from the IRS. Their story has held up time and again," McCarthy continued. "If the Biden administration continues to fight to withhold information that could really clear all this up... we would have to move to an impeachment inquiry."
Nothing like the uniparty's selective outrage depending on who's in office.
Loading...