---
'Mitch Did Not Glitch' Say McConnell's Doctors
Mitch McConnell's doctors insist he's just fine, and didn't have some sort of medical episode when he completely froze up for the second time in four weeks while giving a press conference.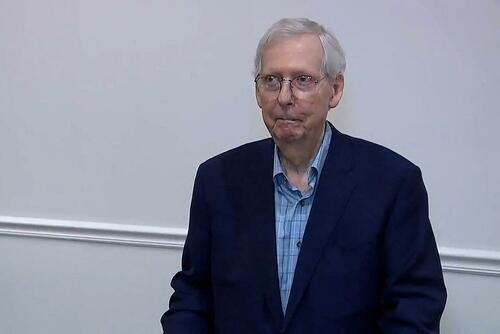 According to McConnell's doctor, Brian P. Monahan, McConnell underwent "brain MRI imaging, EEG study and consultations with several neurologists for a comprehensive neurology assessment," he concluded that "There is no evidence that you have a seizure disorder or that you experienced a stroke, TIA or movement disorder such as Parkinson's disease."
No evidence of stroke, Congress' attending physician tells Republican leader McConnell in updated letter. pic.twitter.com/Ynx4IG4uBx

— Steve Herman (@W7VOA) September 5, 2023
CNN reports that four neurologists signed off on McConnell after his second freezing episode.
So, McConnell was just being unprofessional and is otherwise on his A-game, and this isn't a desperate attempt to cling to the ring of power like Gollum?
Right...
BREAKING NEWS: Sen. Mitch McConnell appearing to have another scary episode in the media gaggle in Covington today. Aides had to step in to help him out and repeat questions. He was eventually lead away. We'll have the full video on @WLWT pic.twitter.com/q9ex5MHxLV

— Hannah Thomas (@HannahPThomas) August 30, 2023
He was just meditating? https://t.co/iargjflHjR

— @amuse (@amuse) September 5, 2023
And four weeks prior:
*DOCTOR SAYS NO NO EVIDENCE MCCONNELL HAS A SEIZURE DISORDER
*DOCTOR SAYS NO EVIDENCE MCCONNELL EXPERIENCED A STROKE
*NO CHANGES RECOMMENDED IN MCCONNELL TREATMENT PROTOCOLS

See, he is perfectly fine until the next reboot

— zerohedge (@zerohedge) September 5, 2023
Loading...