---
Mr. Zelensky Goes To Washington, Again
Ukraine's Present Volodymyr Zelensky is again expected to pay homage to the hands that feed him, as Bloomberg is reporting that another trip to the White House is imminent. 
"President Joe Biden will host Ukrainian President Volodymyr Zelenskiy at the White House next week, according to a person familiar with the plans," the fresh Thursday report indicates.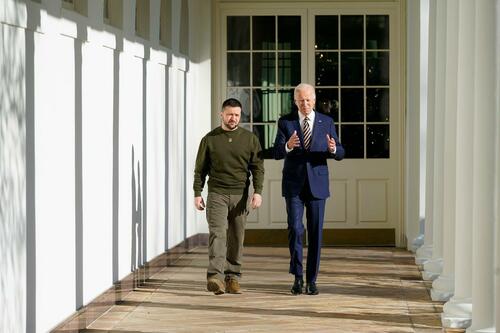 The Ukrainian leader's first official visit to Washington had occurred in December 2022, and also had marked his first known trip outside his war-ravaged country since Russia invaded.
But things have changed since he gave that "Christmas season" address in Congress, where then House speaker Pelosi treated him like a rockstar as she and VP Kamala Harris excitedly waived the Ukrainian flag around, hugging Zelensky in the process. Not only is the much-anticipated counteroffensive not going well, or even failing, but his personal 'star status' is waning too.
Bloomberg notes the new context, namely that Republicans are less likely to sign off on massive new aid packages in the federal budget: 
For the US president, it also coincides with an upcoming showdown over federal funding. Biden has asked Congress to provide $24 billion for the Ukraine war and related costs, but conservatives in the House are threatening to shut down the US government if they consider any funding bill a "blank check" for Ukraine.

Current funding for government operations runs through Sept. 20. Next week's meeting was first reported by Reuters.
And a fresh photo op with Zelensky is perhaps what Biden thinks he needs for a boost in domestic approval ratings, given not only is the mainstream media turning on him...
CNN is now listing out all of President Joe Biden's lies as the New York Post and Washington Post are also ramping up their criticism of Biden.

Weird how they all changed their tune at the same time.

Here are the lies CNN now wants to talk about:

1. Witnessing a bridge… pic.twitter.com/xP1yWxoRbR

— Collin Rugg (@CollinRugg) September 14, 2023
...but he's also newly focused his campaign going into 2024 on being the "tough" commander-in-chief who "protects" democracy around the world:
"He entered Ukraine under the cover of night. And in the morning, Joe Biden walked shoulder to shoulder with our allies in the war-torn streets," the narrator of a new one-minute Biden campaign ad begins.

"Standing up for democracy in a place where a tyrant is waging war to take it away."
On the Ukrainian side, Zelensky could be coming also to bolster support and enthusiasm among GOP hawks and conservative supporters in order to get their fellow Republicans in line. Kiev has also expressed increased impatience and frustration of late when it comes to F-16 delivery timeline, and related to getting more advanced US weapons like long-range missiles.
There's currently talk within the administration of Ukraine getting approval for the MGM-140 Army Tactical Missile System (ATACMS), which has a max range of 190 miles. Certainly Zelensky is going to press for this and more. Will Biden make this the focus of a "big" announcement when he greets Zelensky in the White House next week? 
Loading...