---
"Just What Our Corrupt Government Wanted": Trump Rages After Activist Judge Sets Trial For March
Update (1450ET): Trump has responded to the trial date, saying on Truth Social: "Today a biased, Trump Hating Judge gave me only a two month extension, just what our corrupt government wanted, SUPER TUESDAY. I will APPEAL!"
Amazing, eh?
J6 defendants have been rotting away in solitary awaiting trial for YEARS, but somehow Trump's documents trial—which involves something like 60 million documents—magically gets scheduled for mid-2024? Mmmk. https://t.co/cB1vNp1qaY

— Sean Davis (@seanmdav) August 28, 2023
*  *  *
Obama-appointed activist Judge Tanya Chutkan - who's behind some of the most "extreme sentencing of January 6th defendants" while "openly supporting the violent Black Lives Matter riots of 2020" - has denied a request to move Donald Trump's federal election-interference trial until after the 2024 US election.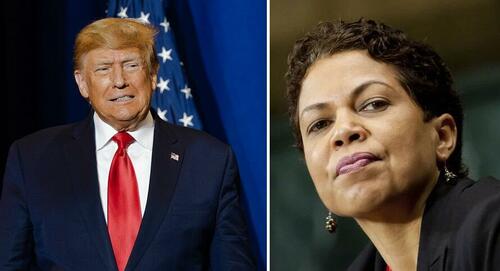 Instead, the trial will start March 4, 2024 in what the WSJ framed as 'seeking a balance' between prosecutors' request for a Jan. 2 start date, and Trump's request to push the trial to April 2026, citing the large volume of evidence they will have to examine, as well as the historic nature of the case.
Trump is the first president in US history accused of blocking the peaceful transfer of power to his successor, which his lawyers characterized as "terra incognita."
"Never in the history of the United States have we seen a case of this magnitude go to trial in four months, and this man's liberty and life is at stake," said Trump attorney John Lauro on Monday. "He deserves an adequate representation. He's no different than any American."
Chutkan, a US District Court judge in the District of Columbia, previously worked at a law firm that represented Fusion GPS, the company that helped orchestrate the Russia collusion hoax targeting former President Donald Trump. During her stint with Boies Schiller Flexner, the Democrat-friendly law firm also reportedly represented Clinton Cabal foot soldier Huma Abedin, the former wife of disgraced Democrat Anthony Weiner.
Special counsel Jack Smith charged Trump with four crimes on August 1st, including conspiring to defraud the U.S., obstructing an official proceeding and conspiring against the rights of voters, per the Journal.
The indictment points to actions leading up to the Jan. 6, 2021, attack on the U.S. Capitol by Trump's supporters. Trump has denied wrongdoing and accused prosecutors of pursuing him to undermine his bid to return to the White House.

One of Smith's prosecutors, Molly Gaston, acknowledged that the discovery evidence so far amounts to 12.8 million pages, but said most of it had already been turned over to or previously reviewed by the defense. At least 25% of those pages are associated with Trump's campaign and political-action committee, more than three million came from the U.S. Secret Service, and hundreds of thousands came from publicly available litigation, Gaston said. -WSJ
According to Gaston, grand jury transcripts, notes, exhibits and reports from interviews amount to roughly 58,000 pages, while prosecutors have assembled roughly 47,000 pages of "key documents" for Trump's defense team, including evidence they thought Trump's lawyers would find helpful.
"It's essentially a road map to our case," she said.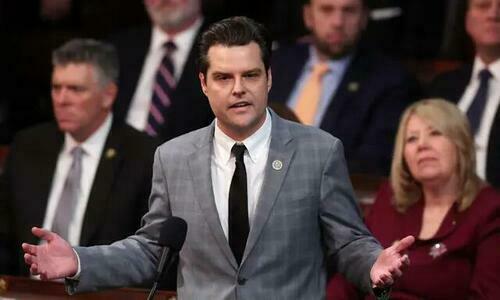 Back to Gaetz... more via the Epoch Times.
"Judge Tanya Chutkan's extreme sentencing of January 6th defendants, while openly supporting the violent Black Lives Matter riots of 2020, showcases a complete disregard for her duty of impartiality and the rule of law," Mr. Gaetz said.
He appeared to be referring to remarks the judge made in one Jan. 6-related sentencing.
"People gathered all over the country last year to protest the violent murder by the police of an unarmed man," she said, referencing violent riots that erupted after the death of George Floyd. "To compare the actions of people protesting, mostly peacefully, for civil rights, to those of a violent mob seeking to overthrow the lawfully elected government is a false equivalency and ignores a very real danger that the January 6 riot posed to the foundation of our democracy."
Mr. Gaetz's resolution points to a few other cases of "open partisanship," including the fact that the Obama-appointed district judge had donated thousands of dollars to his presidential campaign, and that during another Jan. 6-related sentencing she "lamented" that President Trump "remains free to this day."
"Such partisan commentary by Judge Chutkan has been ongoing and calls into question her fitness as a judge and ... Chutkan's comments and activities on and off the bench violate all 5 canons of the Code of Conduct for United States Judges," the resolution reads (pdf).
The canons are that a judge should uphold the integrity and independence of the judiciary; avoid impropriety and the appearance of impropriety in all activities; perform the duties of the office fairly, impartially, and diligently; engage in extrajudicial activities that are consistent with the obligations of judicial office, and refrain from political activity.
"It is deeply concerning that a United States District Court judge would exhibit such blatant political bias from the bench," he said in a press release. "Justice may be blind, but the American people are not—we see Judge Chutkan for her actions, and we rebuke them in the greatest possible sense."
Loading...