---
Seattle Kicks Off Anti-Drug Push With Dozens Of Arrests As Portland Business Owners Beg For Help
Elected officials in Portland and Seattle are beginning to regret turning their cities into crime-ridden hellholes, after their response to Trumpism and the BLM riots in the wake of George Floyd's death was to defund or otherwise hinder police, elect DAs who refuse to prosecute a variety of crime, and promote rampant drug use.
Now, they're dealing with the predictable hangover.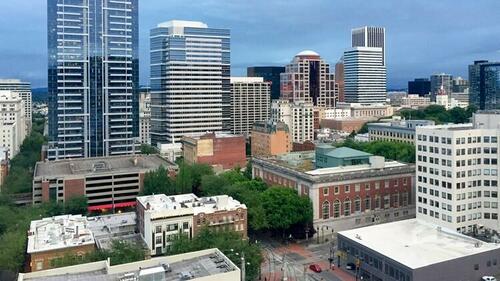 In Portland, 25 businesses have banded together for a strongly worded letter to elected officials, who they've demanded address their concerns over the city's crime wave that has decimated foot traffic to businesses such as Ace Hotel, Central Office, Crafty Wonderland, Courier Coffee, Mimi's Fresh Tees and Multnomah Whiskey Library, according to KGW8.
The situation in Portland is so bad that residents have been told not to call the police unless their lives are at risk thanks to the city's overwhelmed 911 system. In May, Portland officials figured out that defunding the police was pure idiocy, and attempted to reverse course after cutting the PD budget by $15 million, like idiots.
Portland has also experienced a spate of major stores leaving the region, including REI, Walmart and Cracker Barrel.
"Revitalizing downtown businesses necessitates a multifaceted approach that addresses various aspects of their operations and environment," reads the letter from the 25 businesses, which includes ideas for garnering more financial support from government in general amid a shrinking customer base that's killing foot traffic.
Seattle, meanwhile, is making progress towards reducing crime and drug use.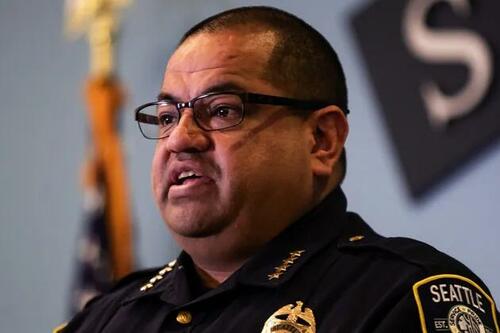 Hours after the city's new law against public drug use and possession took effect Friday, cops made around two dozen arrests, according to the Seattle Times.
Police handed out flyers Friday morning in an effort to educate people about the controversial new law, then returned Friday afternoon to enforce the gross misdemeanor offenses, Diaz said in a news conference at the Seattle Police Department headquarters.

The operations targeted the vicinity of 12th Avenue South and South Jackson Street in the Chinatown International District's Little Saigon neighborhood and Third Avenue and Pine Street in downtown. Both areas have seen prominent public drug use for years.
"We are going to be compassionate in our approach to getting people connected with services while still making sure our city streets are safe," said police Chief Adrian Diaz.
The enforcement action stems from Seattle's adoption last month of a law which allows the City Attorney's Office to prosecute individuals who knowingly possess illicit drugs such as fentanyl, and for using them in public.
Seattle Mayor Bruce Harrell championed the new law, which passed by a narrow 6-3 vote. Supporters say it will improve public safety and help addicts find treatment, while opponents say the law will punish people for said addictions - calling it a new version of the failed war on drugs.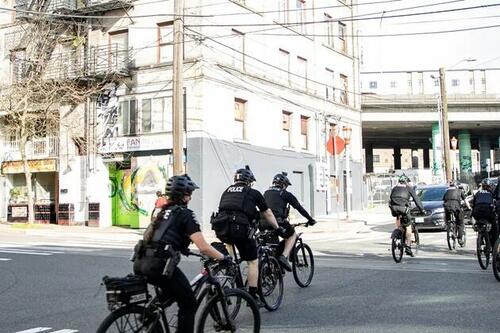 Leftist Seattle councilmember Teresa Mosqueda said the Friday arrests underscore her concerns.
"Data shows the minute you're arrested, there are cascading consequences for your stability. People are more likely to die while in jail due to withdrawal or die upon release due to overdoses," she said. "We don't want public consumption throughout the streets, but we do not have the treatment resources necessary to implement this policy."
*  *  *
Read the Portland letter below:
Dear Esteemed Elected Officials,

We trust this message finds you in good health and high spirits. We, the downtown business owners of Portland, are reaching out as concerned stakeholders to bring attention to the pressing issues currently affecting our city center. The adverse conditions in our downtown area have a profound impact on local businesses. While we recognize the complexity of these challenges, we urge our city and state officials to collaborate in addressing these issues and reinvigorating downtown Portland without delay.

Downtown Portland has long served as the vibrant heart of our community, offering a diverse mix of retail establishments, dining options, cultural attractions, and small enterprises. Unfortunately, recent years have witnessed a noticeable decline in the cleanliness, safety, and overall allure of this area. This deterioration has given rise to several significant concerns:

1. Public Safety: The increased incidents of public disturbances, criminal activities, violence, and vandalism have left residents and visitors feeling unsafe in downtown Portland. This perceived lack of security significantly hampers our local businesses, discouraging potential customers and leading to reduced in-person sales.

2. Homelessness and Unsheltered Individuals: The homeless population in downtown Portland has grown considerably, necessitating more comprehensive support and housing solutions. The presence of unsheltered individuals, drug use, and vandalism negatively impacts downtown life and disrupts business operations.

3. Cleanliness and Maintenance: The cleanliness of our city center and parking garages have suffered due to litter, bodily waste, graffiti, and neglected public spaces. A clean and well-maintained environment is vital for attracting residents and tourists to downtown businesses.

4. Economic Impact on Local Businesses: The deteriorating conditions in downtown Portland are directly and detrimentally affecting local businesses. Decreased foot traffic, negative perceptions, and increased security costs are imposing financial strain on entrepreneurs and jeopardizing their business viability.

Revitalizing downtown businesses necessitates a multifaceted approach that addresses various aspects of their operations and environment. Here are several solutions that can aid in the repair and revitalization of downtown businesses:

1. Direct Financial Support for Existing Businesses: Offer grants, low-interest loans, or tax incentives to downtown businesses to help them recover from economic downturns. Directing resources towards small businesses is essential for preserving the unique shopping experience of downtown.

provide startups and small businesses with affordable office space, shared resources, and mentoring support.

3. Marketing and Promotion: Increase marketing and promotional campaigns to draw customers back to downtown areas. Organize events, festivals, and local markets to boost foot traffic and sales. Create a map of small businesses to aid visitors. Provide resources directly to businesses for store marketing.

4. Facade Improvement Programs: Implement programs that offer grants or low-interest loans to business owners for enhancing the appearance of their storefronts, thereby improving the overall aesthetic of downtown.

5. Support Local Entrepreneurs: Provide training and resources to aspiring entrepreneurs, particularly those from underserved communities, to establish and sustain businesses in downtown areas.

6. Digital Presence: Assist businesses in establishing and enhancing their online presence. Offer workshops on e-commerce, social media marketing, and website development to reach a broader customer base.

7. Public Parking Incentive: Encourage more customers to park downtown by offering free parking during specific hours and ensuring parking safety through well-maintained garages, helping to generate revenue for businesses and the city.

8. Arts and Culture: Foster local artists and cultural organizations by hosting art exhibitions, performances, and cultural events in downtown spaces.

9. Business Networking: Facilitate networking events and organizations that allow business owners to connect, share ideas, and collaborate on projects that benefit the downtown community.

10. Tourism Promotion: Promote downtown as a tourist destination, highlighting its unique shops, restaurants, and cultural attractions. Consider establishing a neighborhood association for businesses and residents.

By implementing a combination of these solutions, local governments, business associations, and community members can collaborate to repair and revitalize downtown businesses, creating vibrant and economically thriving urban centers.
Loading...