---
Tucker And Ice Cube: The Studio Interview
On Tuesday, rapper and actor Ice Cube sat down for an in-car interview with Tucker Carlson, where he explained why he refused to take the "six-month rush-job" Covid-19 vaccine, and lost a $9 million movie gig because of it.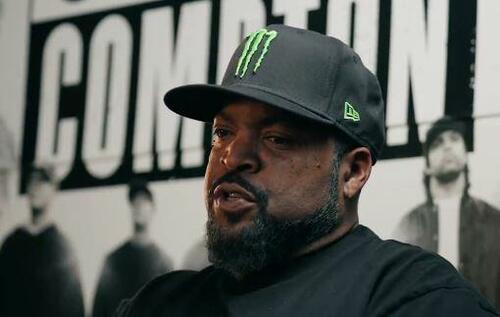 On Wednesday night, Tucker released part II of his interview with Cube (real name O'Shea Jackson), where the rapper went into candid detail about his experiences with media exclusion, how he approaches political dialogue, and racial matters.
On the topic of media exclusion, Ice Cube says that despite his success, certain platforms - including The View and Oprah, refuse to have him on because he's an independent thinker who says that his nonconformity to conventional political ideologies have put him outside the circle of the "Get Along Gang."
"I'm an outsider, not part of the 'Get Along Gang.' I voice my opinion where I'm welcome and can be myself," he said. "I've been excluded from platforms like The View and Oprah, but I'm not defined by their brand of politics."
He then delved into the importance of getting away from echo chambers through dialogue - and that talking to people with various viewpoints, such as how he's met with both the Trump and Biden administrations, can provide potential solutions to critical issues - such as the war in Ukraine.
"Enemies meet and talk; that's how we work things out. Dialogue is essential, no matter the differences," he said.
Racial concerns in American life
Cube then told Tucker that as a prominent African American, race takes up too much space in societal discussions - and that connections between individuals should instead revolve around shared values and wavelength, not just racial identity.
"Race takes up too much space. It's about who you connect with, who wants to do the right thing together," he said, adding "Controversy sells, and reality shows magnify race and status, always highlighting the conflicts and differences."
Rich vs. Poor
The conversation then shifted to socioeconomic issues, where Ice Cube pointed out the alarming decline of the middle class and growing wealth disparities, especially among black communities. Cube noted the staggering increase in property values in places like his childhood neighborhood in South Central Los Angeles, while many struggle to afford housing. He also expressed concern over the financial banking system and the limited access to capital among minorities.
"We have a major problem with access to capital for black people; it affects the middle class, shrinking it," said Cube.
Inside the mind of a rapper
Cube then opined on his own journey as a rapper, claiming that rappers are willing to break away from conformity and try new experiences along their paths to success. Cube says this mindset leads to progress and achievement, vs. sticking with the old ways that don't yield results.
"Rappers are free spirits; we carve our own paths and don't conform to the past's limitations," he said, adding "I wouldn't be here if I had stayed in my lane; rappers are open-minded and seek new experiences."
Watch:
Ep. 11 Ice Cube X Tucker: the studio interview pic.twitter.com/fcSkF76l3a

— Tucker Carlson (@TuckerCarlson) July 27, 2023
Loading...