---
Watch: Creepy Joe Mouths A Little Girl In Finland In Strangest Incident Yet
The president of the United States has once again surrendered to his unsettling impulses toward children -- weirdly mouthing a little girl in Finland. 
The latest in Joe Biden's long line of cringe-inducing behavior toward female children came as Biden mingled with US embassy employees in Helsinki, before he boarded Air Force One.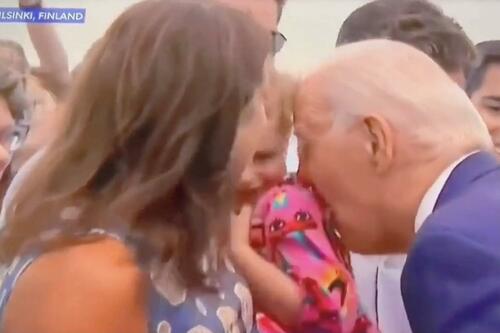 In video of the incident, a woman is seen holding a very little girl who's perhaps one or two years old. Biden shuffles up, and proceeds to open his open mouth wide against the girl's shoulder before vigorously opening and closing his jaw at least a dozen times. 
As she understandably scowls at him in disgust, Biden scowls back for a few seconds -- before closing in for his signature juvenile-hair-sniff, only to be denied as his tiny victim squirms away. 
Words can only do so much...this one has to be seen to be believed:  
During his departure from Finland, President Joe Biden bizarrely sniffed and bit at the shoulder of a frightened little girl. pic.twitter.com/Lx23QeGmfD

— Conservative War Machine (@WarMachineRR) July 14, 2023
The more you study the video, the more you find wrong with it -- and we're not just talking about Biden.
For starters, observe the unidentified woman holding the toddler. In the video, she's focused entirely on recording her defenseless child's encounter with the Sniffer-in-Chief, and then she laughs in the same off-putting way as those horrendous parents who serve their little children up to drag queens.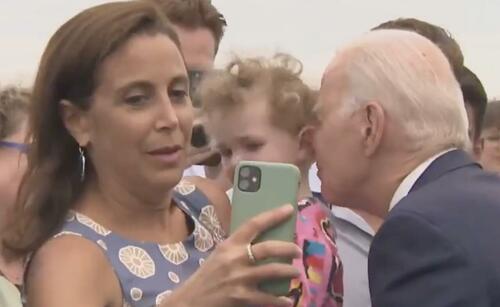 Then, there's the man next to the her. He not only laughs approvingly, but gives Biden a slap on the shoulder as if to say "attaboy!" We can only hope that isn't the girl's father. 
Next, contemplate the close presence of the Secret Service. While the little girl was sadly without protectors on Thursday, one can visualize what would happen if a mother or father gave Biden a well-deserved shove to stop him from coating their child with saliva: They'd be planted face-first into the tarmac by the Imperial Guard.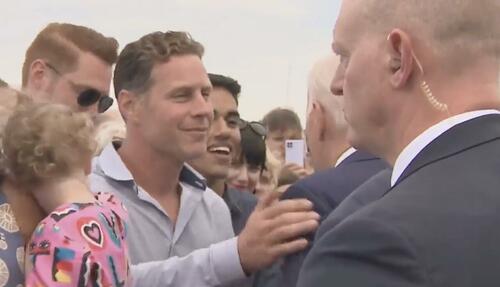 Finally, in something of a nod to Frédéric Bastiat, who urge you to ponder the unseen: Biden was lavishing (albeit unwanted) attention on a stranger's little girl as he continues to disown his granddaughter fathered by son Hunter with a then-stripper.
Last week, New York Times columnist Maureen Dowd scolded Biden for his heartless stance, which extends to reportedly ordering White House staff to refuse to even acknowledge that little girl's existence. "Empathy, born of family tragedies, has been his stock in trade," wrote Dowd. "Callously scarring [her] life, just as it gets started, undercuts that."
Of course, given Biden's continued strange behavior toward children, his detachment may in some ways be a blessing. Meanwhile, his inability to restrain his impulses flies in the face of previous declarations:
In 2011, Biden told students at the University of New Hampshire that "it's never, never, never, never, never okay to touch [a girl] without her consent." 
In 2019, after four women publicly accused him of unwanted touching, Biden said "social norms have begun to change, and the boundaries of protecting personal space have been reset...I'll be much more mindful."
However, whether it's the Mexican frontier or a child's body, Biden continues to demonstrate an utter disregard for important boundaries. 
Loading...