---
Twitter X Reinstates Kanye West After Ban
"Ye," the musician and designer formerly known as Kanye West, was freed from 'Twitter jail' on Saturday evening after social media platform "X" (formerly known as Twitter) reinstated his account after an eight-month ban. 
In early December, Ye tweeted an image of a swastika embedded with a star of David that was immediately removed by Twitter police and led to the suspension because the social media platform said it was "inciting violence." 
As of Sunday morning, Ye had yet to tweet since having his account reinstated.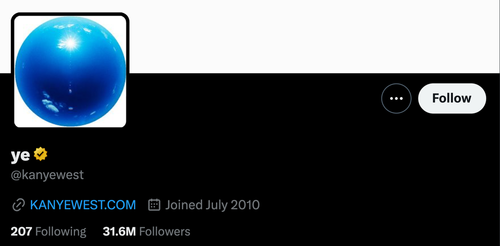 The Wall Street Journal reported Ye "won't be eligible to monetize his account on X, and advertisements won't appear next to his posts," citing a statement from the social media platform. 
The report continued, "X reinstated West's account after receiving reassurance that he wouldn't use the platform to share antisemitic or otherwise harmful language, a person familiar with the matter said." 
Elon Musk, X's owner, calls himself a free speech absolutist, previously reinstated former President Trump's account after polling platform users. Trump has yet to tweet but continues to post on the platform Truth Social. 
Loading...