---
Giant Dust Cloud In South US; Another Round Of Canadian Wildfire Smoke In Northeast
AccuWeather meteorologists say massive dust clouds from Africa's Sahara Desert will traverse the Caribbean and the southeastern US this weekend. 
"Saharan dust is common most years across parts of the Atlantic basin and sometimes spreads as far west as the Caribbean and Florida," said AccuWeather Director of Forecast Operations Dan DePodwin.
NOAA's weather satellites have spotted two dust plumes. The first is over the eastern Caribbean Sea and the southern Gulf of Mexico. There's an even larger one behind it. 
7/7: A plume of Saharan Dust will arrive across our region late this weekend into the upcoming work-week. Strong upper-level winds carry these small sand particles originally from the Saharan Desert far across the Atlantic ocean. More info on how this affects air quality below! pic.twitter.com/jCY0WSfMWZ

— NWS Miami (@NWSMiami) July 7, 2023
AccuWeather meteorologists forecast coastal areas of Texas, Louisiana, Mississippi, and Alabama will be impacted by the dust and worsen air quality. 
Saharan dust makes its way into the Lower 48 over the next few days.

In addition to suppressing tropical activity over the Atlantic, dust may impact air quality, slightly lower temperatures, and allow for brilliantly colored sunrises/sunsets.https://t.co/JQwv4VoIiL
MG pic.twitter.com/EnEUxXh8vC

— Weather.us - Weather Forecasts For Professionals (@WeatherdotUS) July 8, 2023
Simultaneously, forecast models from The Weather Channel show the possibility that the third round of Canadian wildfire smoke will blanket parts of the Northeast.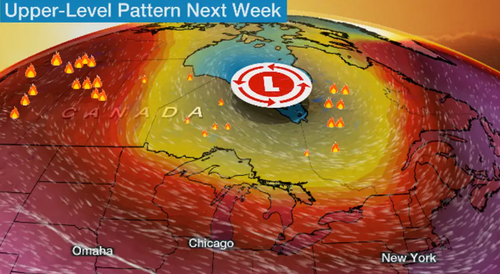 Dust clouds in the southern US, while smoke invades the northern US. Prepare for a continuation of corporate media pushing climate apocalypse headlines, some of which have been labeled as 'nonsense' even by a Wall Street Journal editorial titled, "Hottest Days Ever? Don't Believe It." 
Loading...