---
Maui Inferno: 80 Lives Lost, 1,700 Buildings Destroyed; Becomes Second Deadliest US Fire
The death toll from the wildfires that ravaged the resort town of Lahaina on the island of Maui jumped to 80, Maui county officials wrote in an overnight update. Firefighters are still working to contain fires in Lahaina, Pulehu/Kihei, and Upcountry Maui.
At least 80 perished in the inferno, and 1,700 buildings were burnt to a crisp in what is already being described as the deadliest natural disaster to strike Hawaii since a deadly tsunami in 1960 that killed 61 people. 
On Friday afternoon, Hawaii Gov. Josh Green (D) told CNN's Wolf Blitzer that it could take weeks to sift through Lahaina's "rubble and ashes" to get a final death toll. 
"Over the course of the next week, we'll get as close to a complete assessment as possible.

"Starting tomorrow, we will see a lot more certainty about how many individuals perished," Green said.
The governor continued:
"Sometimes in natural disasters, or essentially wartime disasters, and it does look like a war zone where Lahaina is concerned, you will sometimes discover later that someone has perished, because it was burned to the ground."
So far, the Maui fire is the second-deadliest in the US in the last 100 years, but it could soon be the deadliest if the death toll surpasses the 2018 Camp Fire in Northern California that killed 85 people. 
 Fire Map: Island of Maui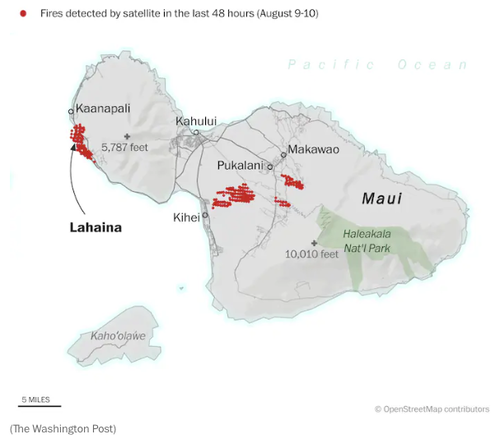 Here's the latest update from Maui local officials: 
Firefighters continue working to extinguish flare-ups and contain fires in Lahaina, Pulehu/Kihei and Upcountry Maui. 

The number of fatalities is at 80.

A Ka'anapali fire reported above Puukolii at 6:10 p.m. Friday was reported to be 100 percent contained before 8:30 p.m. The fire is in the area where a county fueling station was positioned Friday to distribute an estimated 3,000 gallons of gas and 500 gallons of diesel for an estimated 400 vehicles that were lined up before the operation began. No fuel will be distributed Saturday.

Police are restricting access into West Maui through both Ma'alaea and Waihe'e. Honoapiilani Highway is open for vehicles leaving Lahaina. The burned historic Lahaina town area remains barricaded, with people warned to stay out of the area due to hazards including toxic particles from smoldering areas. Wearing a mask and gloves is advised.

Volunteers are distributing food, water and other supplies at Napili Plaza.

Food, water, toiletries, canned goods, diapers, baby formula, clothing and pet food will be distributed from 10 a.m. to 4 p.m. Saturday at Lahaina Gateway Center.

Donations of non-perishable food, bottled water and hygiene items will be accepted from 8 a.m. to 6 pm. Saturday at the War Memorial Complex field in Wailuku. No clothing is being accepted.

A Family Assistance Center for family members who are looking for information about loved ones who are unaccounted for will be open from 10 a.m. to 8 p.m. Saturday and Sunday at Kahului Community Center.

The county Department of Transportation is coordinating buses to transport people staying at emergency shelters to the county Department of Motor Vehicles and Licensing, which will be open for special hours from 8 a.m. to 12:30 p.m. Saturday so shelter occupants can have their driver's licenses and state identification cards reissued. Fees will be waived. County are volunteering to work to open the department.

On Friday, a total of 1,418 people were at emergency evacuation shelters at War Memorial Gymnasium, Hannibal Tavares Community Center, Maui High School, The Church of Jesus Christ of Latter-day Saints Maui Lani, Kings Cathedral Church and Grace Bible Church.

Additional cellphone service was becoming available in West Maui. Cellphone users are reminded to text not talk so everyone can share the limited resources.
Local officials have described Lahaina as "like a bomb went off." 
#BREAKING: The after apocalypse drone footage of the Lahaina, Maui, Hawaii wildfires, where the death toll has now risen to 80 and the entire island has been burned. #wildfire #MauiFires #Hawaiifire #Hawaiiwildfires #hawaiifires #MauiWildfires #mauifire #LahainaFires pic.twitter.com/u1rCAyHN9D

— EvoCentral (@evocentralnews) August 12, 2023
Lahaina - Hawaii #FIRE #Hawaiifire #Lahaina pic.twitter.com/vAmYpvwUlL

— IsrAraz (@israraz) August 12, 2023
Die verheerenden Wald- und Buschbrände auf der Hawaii-Insel Maui haben inzwischen mindestens 80 Menschen das Leben gekostet. Der Urlaubsort Lahaina liegt in Schutt und Asche. https://t.co/nHqoXOKJem pic.twitter.com/TTKK85KP8b

— WDR aktuell (@WDRaktuell) August 12, 2023
Satellite images show the destruction caused by the wildfires in Lahaina #Hawaii https://t.co/AK4QMgWZd8 pic.twitter.com/nzvFQ0gS1R

— Olivier🚀Dassonville (@TheDarkPixel) August 12, 2023
Fires continue...
ALERT 🚨 *Another fire* Kaanapali, a town north of Lahaina in West Maui, is evacuating people due to a growing fire.

pic.twitter.com/OKMQnnARUg

— Insider Paper (@TheInsiderPaper) August 12, 2023
The fires began earlier this week (read: here). The source of the fire remains unknown but was fueled by hurricane winds and dry weather. 
Loading...