---
Toxic Wildfire Smoke From Canada Is Back
Another round of toxic Canadian wildfire smoke is back in the US. Air quality alerts are deteriorating in Mid-Atlantic states as the plume of smoke pours in from Canada. 
Smoke and haze are set to blanket parts of New York, Pennsylvania, and Vermont by late Monday afternoon. The air quality will continue to deteriorate for many metro areas across the mid-Atlantic and Northeast throughout the day. 
Smoke forecast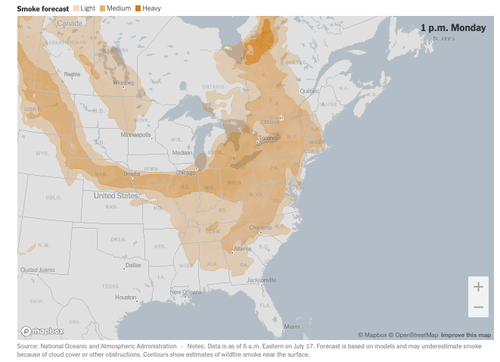 "Unfortunately, the wildfire smoke will begin to make a return to the region to start the new week," according to the National Weather Service in the Philadelphia area.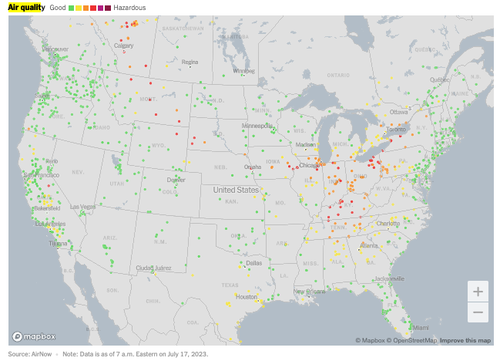 As of 0700 ET, several metro areas, including Chicago, Buffalo, Pittsburgh, Nashville, and Cincinnati, had air quality readings of "unhealthy" and "unhealthy for some."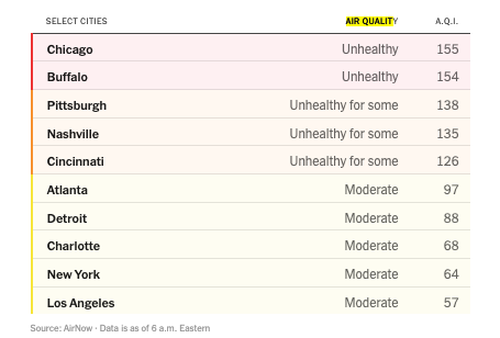 "Canadian wildfire smoke will remain in the picture through Tuesday as northwesterly winds aloft that originate out of the Canadian Prairies continues to direct more smoke into the Lower 48," the Weather Service said.
Last month, we cited one Candian official who warned wildfires could "last all summer." 
Loading...