---
Tropical Storm Idalia Forecasted To Intensify Into "Major Hurricane" Before Striking Florida
Tropical Storm Idalia is forecasted to become a major hurricane before striking Florida's Gulf Coast on Wednesday morning, the National Hurricane Center (NHC) said.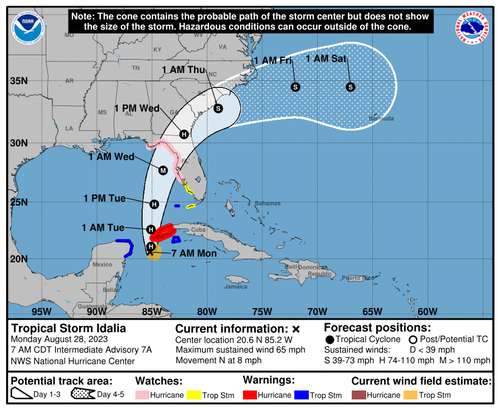 NHC senior hurricane specialist Eric Blake told local newspaper Orlando Sentinel​​​​​​, "The risk continues to increase for life-threatening storm surge and dangerous hurricane-force winds along portions of the west coast of Florida and the Florida Panhandle beginning as early as late Tuesday."
NHC's early morning forecast said Idalia is "forecasted to become a hurricane when it nears Western Cuba Today," adding "life-threatening storm surge and dangerous winds becoming increasingly likely for portions of Florida."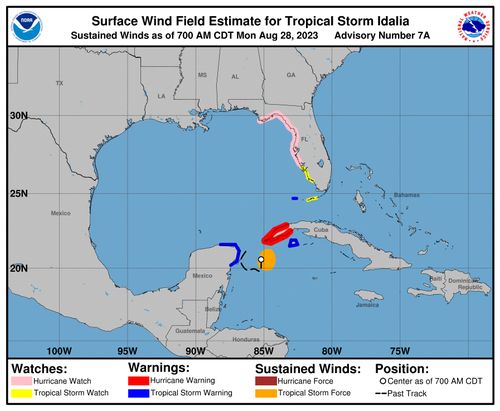 NHC said Idalia is forecasted to become a "dangerous major hurricane over the northeastern Gulf of Mexico by early Wednesday." On the Saffir-Simpson Hurricane Wind Scale, this means the storm will be rated as a Category 3 system or higher.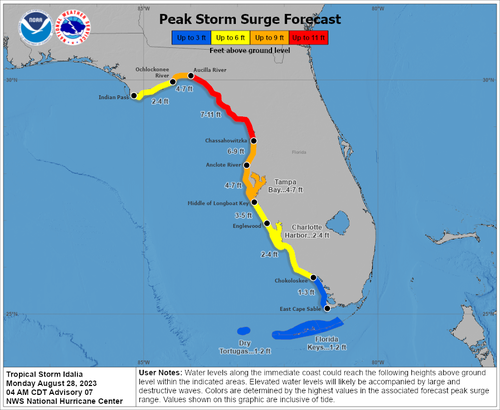 On Sunday, Florida Gov. Ron DeSantis declared a state of emergency for 33 Florida counties while campaigning for president in Iowa. He activated the Florida Division of Emergency Management to prepare for the storm. Also, 1,100 National Guard members were deployed. 
"These things can wobble, so Floridians along our Gulf Coast should be vigilant even if you're currently outside the [forecast zone] cone," DeSantis said. 
"The bottom line is that rapid intensification is becoming increasingly likely before landfall," Blake said. He noted, "It should be emphasized that only a small deviation in the track could cause a big change in Idalia's landfall location in Florida due to the paralleling track to the west coast of the state."
Loading...