---
"Wiped Off Map": Hawaii Wildfires Level Entire Town, Claiming 36 Lives
Fueled by strong winds from Hurricane Dora, wildfires left widespread damage across the Hawaiian island of Maui. Local authorities report at least 36 people have died, and hundreds of buildings have been destroyed. 
"As the firefighting efforts continue, 36 total fatalities have been discovered today amid the active Lahaina fire," a Maui county statement read. 
Three wildfires started earlier this week and rapidly spread on Wednesday. Preliminary estimates show nearly 300 structures have been damaged or destroyed, and more than 1,000 acres of Maui's Upcountry have been charred. Power is out for thousands across the west of Maui. 
On Wednesday night, thousands of people lined Maui's Kahului Airport, trying to escape the inferno. Mass evacuations were conducted in the resort town of Lahaina earlier in the day. 
Maxar Technologies released before and after satellite imagery of Lahaina that reveals the fire leveled the town. 
Before and after imagery from Maxar Technologies of Lahaina, Maui - Hawaï.

Total devastation. pic.twitter.com/yDyD3yPuIn

— Nahel Belgherze (@WxNB_) August 10, 2023
Footage posted on "X," formerly known as Twitter, also shows the devastation. 
Utter devastation left by the wildfires in Maui, Hawaï. It is far from hyperbole to say that Lahaina has been wiped off the map.

Credit: Vince Carter pic.twitter.com/dlwxTNY51R

— Nahel Belgherze (@WxNB_) August 9, 2023
Front Street Lahaina from the ground. Everything is gone #lahainafire pic.twitter.com/zzEkbvPa31

— Nohead (@nohea_d) August 9, 2023
For those who are not on Maui, it's hard to imagine the devastation.

Longtime resident, Emerson Timmins who saw the disaster in Lahaina joined KHON2 News for an interview: pic.twitter.com/POeeZDgiNd

— KHON2 News (@KHONnews) August 10, 2023
🚨 JUST IN: Death toll from Maui, Hawaii fires has reached 36

The town of Lahaina looks absolutely apocalyptic. There is practically nothing left.

Winds from a distant hurricane fanned the flames of a wildfire, engulfing the resort town with very little warning.

People fled… pic.twitter.com/sHLVcCxaiv

— Nick Sortor (@nicksortor) August 10, 2023
WSJ provided a fire map of Maui.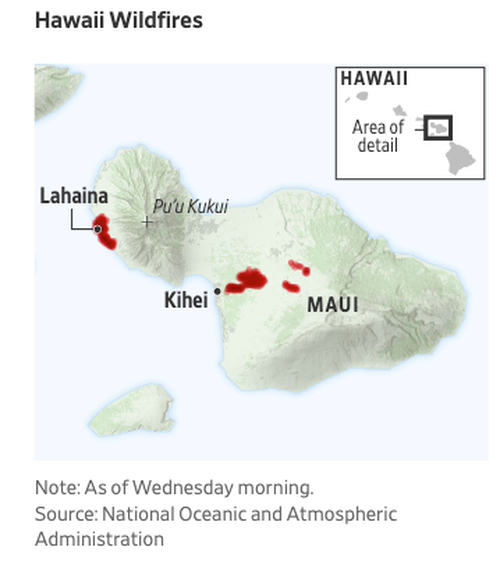 Hawaii's Lieutenant Governor Sylvia Luke described the fire as "unprecedented." Here are the most recent updates on the blaze (list courtesy of CNN):
Thirty-six killed: "As the firefighting efforts continue, 36 total fatalities have been discovered today amid the active Lahaina fire. No other details are available at this time," Maui County officials said in their news release.

Several unaccounted for: Three helicopters from the US Coast Guard and US Navy were used in search and rescue efforts along the west Maui coastline, and a federal team arrived Wednesday to help search efforts in the Lahaina area, officials said.

Power outages: More than 11,000 customers on Maui were without power as of 11 p.m. Wednesday local time (5 a.m. ET Thursday), according to PowerOutage.us, accounting for about 15% of the island's customers. Power crews are working to repair downed lines and additional crews are being deployed from Oahu, Hawaiian Electric said in a news release.

Cell service out for thousands in Maui: It could take days or even weeks to fix networks. Officials have been using satellite phones to communicate with providers on the west side of Maui to restore power to the area, Luke said.

Among the most devastated areas: Much of the western Maui community of Lahaina, where about 12,000 people live, is destroyed and hundreds of families there have been displaced, Hawaii Gov. Josh Green said. More than 270 structures have been impacted in Lahaina, county officials said.

Many in shelters: More than 2,100 people were in four emergency shelters in Maui on Tuesday night, the mayor's office said. While there's enough shelter for an emergency response for a few days, "there's not enough shelter for long term living," the governor told CNN.
*Developing 
Loading...