---
China Fires "First Warning Shot" With Metal Export Controls As Traders Scramble For Gallium
Beijing is furious with the Biden administration mulling over a broader semiconductor chip export ban and, in response, decided last week to announce export restrictions on two metals, gallium and germanium, which are heavily imported by Western countries for semiconductor production. 
The timing of the announcement is one to ponder about. It came days before US Treasury Secretary Janet Yellen's China visit on Thursday. It appears Chinese officials are playing a complex game of chess with the Biden administration as their dominance over rare earth mining and refining, and the lack of that in the West would open up talks with Yellen about future US bans on chips and semiconductor equipment that are critical for China's economic growth. 
"China apparently does not like the news that the Biden administration is considering a wider semiconductor chip ban and decided to ban the export of gallium and germanium, which are used in semiconductors, 5G base stations, and solar panels," Louis Navellier, founder of Navellier & Associates, wrote in a recent note to clients. 
"Although the US and its allies depend on China for these critical minerals, China needs Western technology such as lithography machines to produce high-performance chips," Navellier said.
On Friday, The Wall Street Journal reported that Yellen met with Premier Li Qiang and discussed economic competition that would benefit both countries. 
Global gallium prices soared 27% on the news last week. Traders who spoke with Bloomberg said the gallium market is well-supplied, but export controls beginning next month have sent buyers scrambling to purchase the metal. 
On Friday, Fastmarkets data showed Gallium prices jumped $43 on the week to $326 a kilogram.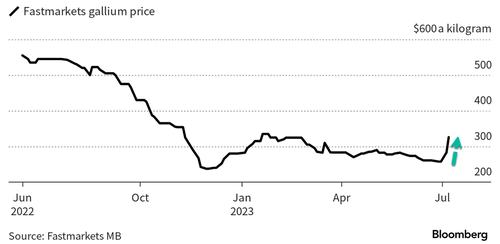 Starting Aug. 1, exporters must apply for licenses with the commerce ministry to ship the metals abroad. And how the export controls will affect Chinese shipments still needs to be determined. 
Colin Hamilton, managing director for commodities research at BMO Capital Markets, said the restrictions would likely spur efforts by Western countries to seek supplies of both metals elsewhere.  
"This is a further example of how industrial raw materials are becoming increasingly strategic in global markets and brought to the center of policy action," Hamilton wrote in a note early last week. 
Data from the US Geological Survey shows the US imported an estimated 14,000 kilograms of germanium in 2022 while consuming an estimated 30,000 kilograms. In the same year, imports of gallium were 14,000 kilograms, while consumption was around 18,000 kilograms.
In the meantime, the US will stockpile these metals as it will diversify sourcing away from Asia. There is a movement by the Biden administration to increase domestic mining and refining of rare earth metals. 
The move by China is "far from being the nuclear option that it could have chosen," but it's the "first warning shot," Bernard Dahdah, an analyst at Natixis, wrote in a note. He pointed out, "China does control other metals through which it can inflict more severe consequences."
Meanwhile, the US US Defense Department announced on Friday it is invoking the Defense Production Act to boost the domestic mining and processing capacity of the two metals. 
Loading...