---
'Felt Like Earthquake': Explosion Rocks Turkish Port Full Of Grain
Update (0910ET):
Turkish state-run media reports the explosion at the Port in Derince might have been caused by grain dust. No vessels were impacted. 
CAUSE OF TURKEY PORT EXPLOSION THOUGHT TO BE GRAIN DUST: TRT
TURKEY PORT EXPLOSION DIDN'T IMPACT ANY SHIPS: STATE-RUN AA
*   *   * 
Footage on social media shows a major explosion rocked a silo facility at the Port in Derince, Turkey. Reports say the facility is a storage area for wheat. 
*EXPLOSION AT SILO OF TURKISH GRAIN BOARD IN KOCAELI PROVINCE:AA

— zerohedge (@zerohedge) August 7, 2023
Bloomberg said the explosion occurred around 1400 local time in storage units owned by the country's grain agency, known as Turkish Grain Board. Other reports say the blast happened in an elevator while loading a bulk carrier with grain. Nothing has yet to be confirmed. 
⚡️Video of the explosion at a Port in Derince, Turkey. pic.twitter.com/NbMeOvJvz2

— War Monitor (@WarMonitors) August 7, 2023
The Mirror reports:
The cause of the explosion at the port in Kocaeli's Derince district is still unknown as residents reported their home shaking and footage shows thick plumes of black smoke billowing for miles. Five people have been injured, according to the local fire service. 

Local Mayor Zeki Aygün said, "My office is about 1 km away and I felt an earthquake. We have five injured people right now. Friends are working. We know that there was an explosion. The bottom of the two silos I saw was opened."
Here's more video of the incident: 
A powerful explosion went off outside the major Turkish commercial port of Derince in Kocaeli.
According to CNN Turk, the explosion occurred in a grain elevator as a ship loaded with grain. pic.twitter.com/8AxVZjRe2v

— Alexander Cloud (@cloud_alex8888) August 7, 2023
CNN TÜRK reporter Hasret Kaya said in a live broadcast: 
"One of the wheat silos exploded. It is thought to have happened while a ship was buying wheat at that point. It is thought that it took place quickly due to the wheat silo, but whether there was periodic maintenance we do not know. The authorities have not yet made a statement. This will be clarified in the coming period. This is the information we have received from the region."
Traders have reacted slowly to the developments as wheat futures remain muted.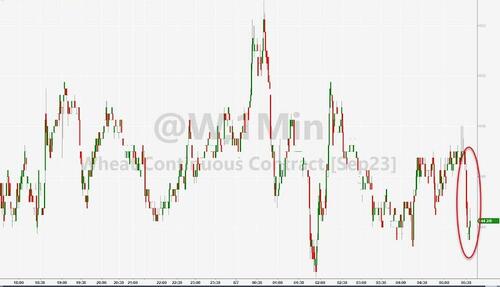 The blast at Derince might add more food insecurity woes after Russia terminated the Black Sea Grain deal last month. In response, Ukraine has threatened to target Russian ships. 
Loading...