---
WTI Extends Gains Despite Crude Production Surge, Biden Admin Begins 'Refilling' SPR
Oil prices are higher (again) this morning, with WTI testing $84 - 2023 highs - as fears of global markets tightening continues. European NatGas prices are also pulling oil (and coal) higher and a weaker dollar is helping.
"There is no doubt that there is plenty of momentum here, and traders are really ignoring all the bad news that is embedded in the Chinese data, which many analysts are trying to drum as loud as they can," Naeem Aslam, chief investment officer at Zaye Capital Markets, said in a note.

"Oil traders are feeling highly comfortable with their approach when it comes to trading oil prices, and the clear trend seems to be skewed to the upside," he wrote.
After last week's record-breaking drawdown, all eyes will be on the crude inventory report for a bounce (or follow through).
API
Crude +4.067mm (+1.3mm exp)

Cushing -112k

Gasoline -413k (-300k exp)

Distillates -2.093mm (+200k exp)
DOE
Crude +5.85mm (+1.3mm exp)

Cushing +159k

Gasoline -2.66mm (-300k exp)

Distillates -1.71mm (+200k exp)
US Crude inventories rose more than expected last week, but products saw bigger than expected draws...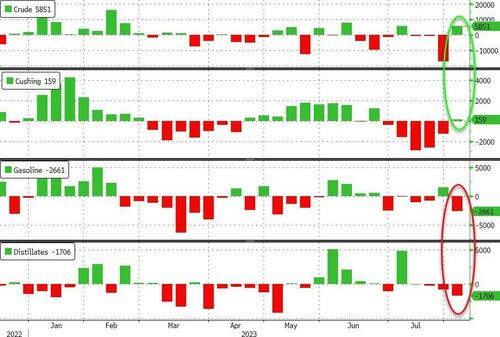 Source: Bloomberg
The Biden administration actually added 995k barrels to the SPR last week - the largest weekly build since June 2020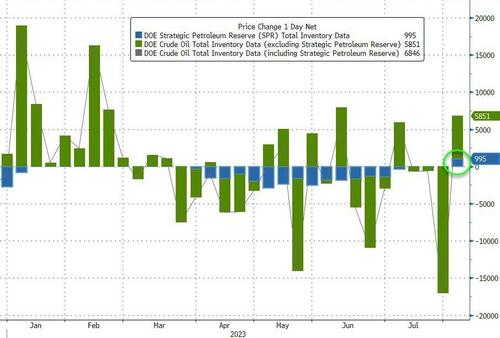 Source: Bloomberg
US Crude production surged by 400k b/d to a new post-COVID-lockdown high, despite the ongoing slump in the rig count...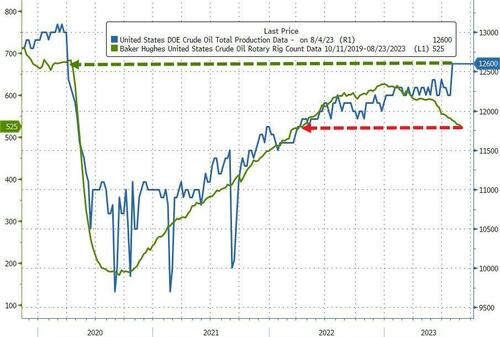 Source: Bloomberg
WTI was trading around $84 ahead of the official data and extended gains after the print...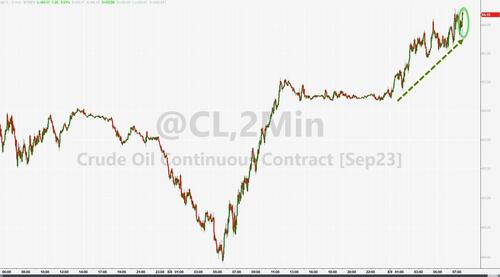 "Amid a steady rally dating back to late June, fundamentals continue to skew supportive," said Robbie Fraser, manager of global research and analytics at Schneider Electric, in a note.
And that means Biden has a problem...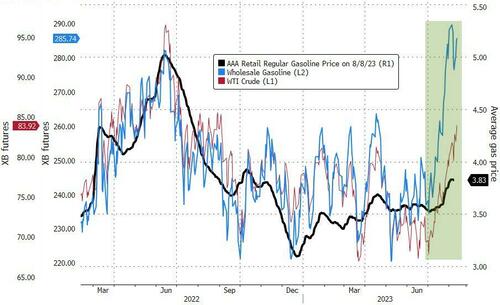 Source: Bloomberg
However, clear indications of a global economic slowdown are emerging, yet these signals are conveniently being disregarded by oil bulls.
For instance, the US non-manufacturing PMI dropped from 53.9 to 52.7 in June. Concurrently, the manufacturing PMI has sustained a nine-month downward trajectory - a streak of losses unseen since the 2008 Financial Crisis. The Conference Board's Leading Economic Index (LEI) accentuates this downturn, recently sliding from 106.9 in May to 106.1 in June - an unprecedented 15-month consecutive decline, marking the lengthiest continuous decline since 2009. Economic activity in the Eurozone is similarly facing a decline.  China, the world's second-largest economy, has consistently disappointed investors and analysts as its post-COVID reopening failed to gain momentum.
In light of these compelling indicators, it becomes evident that the global economy is treading toward a recession. Given these circumstances, the production cuts should not be interpreted as a sign of supply shortage; rather, they underscore the concerns that contribute to an imminent decline in demand.
Consequently, OilPrice.com's Osama Rizvi warns that the ongoing oil price rally is likely temporary.
Loading...