---
Military Seizes Power In OPEC Nation Gabon As Wave Of Coups Sweep Africa
Following last month's military takeover in Niger, a group of senior Gabonese military officers announced on national television they were seizing power in the central African nation, overturning results in a disputed presidential election four days ago. 
Bloomberg reported the oil-rich nation (also an OPEC member) with a population of about 2 million saw dollar bonds tumble after military officers announced on television channel Gabon 24 that election results were canceled, borders closed, and state institutions including the Senate, National Assembly and Constitutional Court dissolved. 
"In the name of the Gabonese people … we have decided to defend the peace by putting an end to the current regime," one military office said. He said, "We call on the population for calm and serenity."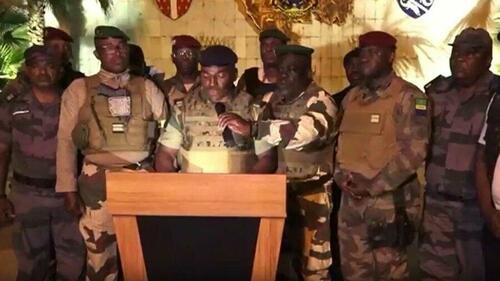 You're probably wondering where the heck is this tiny OPEC country... The former French colony is in central Africa and borders Cameroon, Equatorial Guinea, and the Republic of Congo.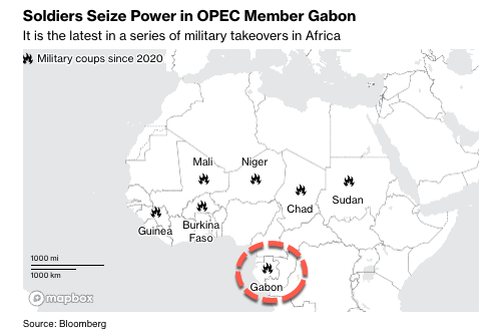 If successful, the coup will be the eighth in West and Central Africa since 2020—coups in Mali, Guinea, Burkina Faso, Chad and Niger. Last month the military seized power in Niger. International Man's Doug Casey explains more in "The Battle For Strategic Resources In Africa." 
Here are the latest headlines on the Niger coup:
For half a century, the Bongo family ruled the resource-rich country but has been recently accused of abusing power and amassing exorbitant wealth. 
Military officials called themselves the "Committee of the Transition and the Restoration of Institutions" and said that "irresponsible, unpredictable governance" has led to a collapse in social cohesion. 
Gabon Military: "On this day, August 30, 2023, we, the defense and security forces... on behalf of the Gabonese people and guarantor of the protection of institutions, have decided to defend peace by putting an end to the current regime." pic.twitter.com/kboTBOmBaP

— COMBATE |🇵🇷 (@upholdreality) August 30, 2023
Bongo nor his government have reacted to the television appearance of the military. His whereabouts are unknown. 
Bloomberg reported Gabon's dollar bonds due June 2025 fell 11.54 cents to 81.76 cents on the dollar. Both June 2025 and November 2031 were the worst-performing in emerging markets in the session.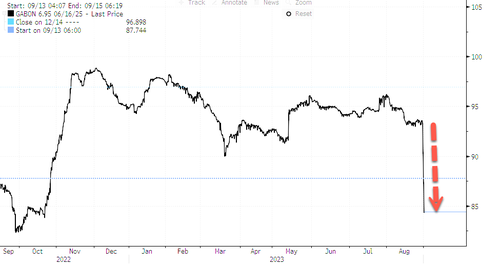 French miner Eramet SA, oil and gas producer Maurel & Prom SA, and a listed unit of TotalEnergies SE, which have operations in the country, slid in Paris trading. 
Thousands of Gabonians took to the streets after the coup, the atmosphere is festive.

Meanwhile, the French mining company Eramet announced the suspension of operations in Gabon. pic.twitter.com/H6fOa4uQhC

— Sprinter (@Sprinter99800) August 30, 2023
The European Union's foreign policy chief, Josep Borrell, said the bloc's foreign ministers would review "the very difficult situation" in Gabon. 
The series of coups in Africa is a blowback for a clueless West as a new world order continues to emerge: "Xi, Putin Hail First BRICS Expansion In Over A Decade As Gulf Oil Powers Join." 
Loading...