---
Another Middle-Class Spending Barometer Flashes Red: Rolex Prices Near Two-Year Low
On Tuesday, President Biden declared the US economy is "strong" and expects no recession. However, in contrast to his forecast, one barometer of middle-class spending habits is flashing red. 
The Bloomberg Subdial Watch Index, which tracks prices for the 50 most-traded watches by value on the secondary market, continues falling from record highs reached in April 2022. Prices are below July 2021 levels, approaching the lowest point in two years.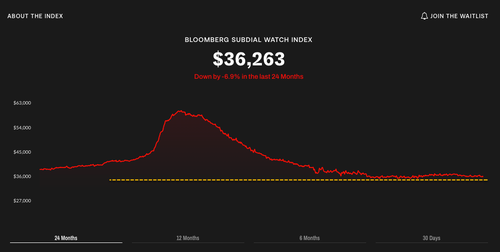 "Demand for pricey timepieces from the top Swiss brands has cooled amid slowing economies, higher interest rates, and the crash in cryptocurrencies," according to Bloomberg.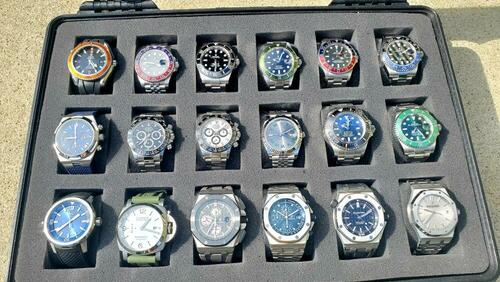 Watch buying activity can be used as a barometer of middle-income spending habits. If consumers have more money, they will increase purchases of discretionary items like wristwatches. We have also pointed out that diamond prices have plunged.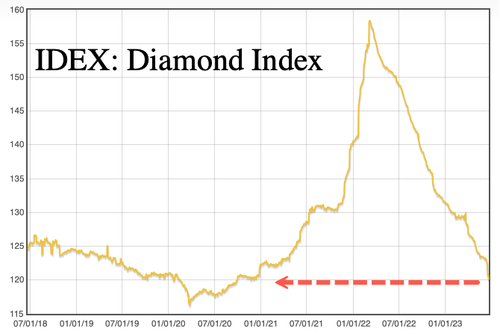 We also noted in late May that LVMH Moet Hennessy Louis Vuitton warned about a slowdown in US growth. At the time, we asked: Did The Luxury Bubble Just Burst?
So contrary to the president's claims about a strong economy, mid-tier consumers are dialing back spending on luxury goods. 
Goldman's Rich Privorosky recently pointed out, "Something is not quite adding up on the consumer" and asked, "Have we just run out of excess savings and are we returning to replenishing savings?"
So putting all this together, consumers continue to shun secondary watch markets, pull back on diamond spending, and reduce Gucci handbag purchases. This comes as many consumers have racked up high amounts of credit card debt while paying some of the highest interest rates in decades, depleted savings, and endured two years of negative real wage growth due to the inflation storm. 
Loading...