---
With China's Economy On "Verge Of Collapse", PBOC Central Banker Calls For Helicopter Money
As Bloomberg's Garfield Reynolds writes in the aftermath of last night's unexpected Chinese rate cut, while the nation's economic struggles were (finally) severe enough for the authorities to respond with their biggest interest-rate cut since the pandemic, it will be nowhere near powerful enough to help spark a turnaround.
For a start, Reynolds writes, that scope "is rather less impressive when you realize the reduction in the rate on one-year PBOC loans — or medium-term lending facility — was all of 15 basis points. Most central banks faced with the sort of slowdown China is facing might well decide to cut by three times as much or more."
The real difficulty for China is that previous reductions haven't done all that much to galvanize lending in order to stimulate activity; after all as we have discussed previously, one can't fix a lack of demand problem with more supply (one can , however, create asset bubbles).
Furthermore, as we observed on Sunday, China's new loans tumbled in July to the lowest since 2009...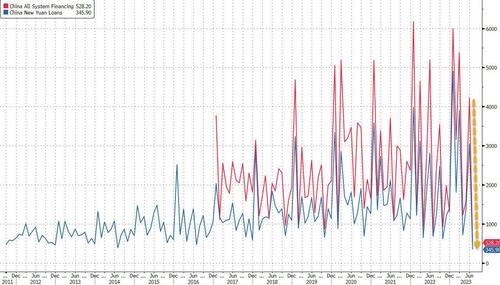 .... and the PBOC's ever-increasing interest-rate benchmarks were all at multi-year lows even before this month's reduction.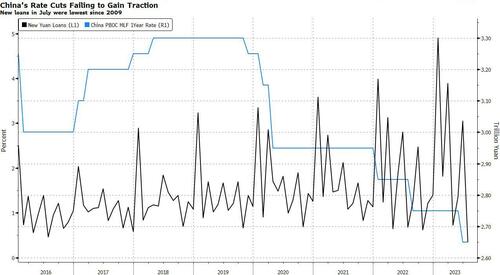 Part of the reason for the lack of demand is the ongoing woes in the key property sector, though the situation also underscores concerns that China is tipping into a balance-sheet recession in which companies avoid fresh borrowings in order to service and pay down their existing debt.
As China slides into a Japan-style balance sheet recession and the resulting deflation - as recently discussed by Richard Ku - it is facing even bigger problems than just a garden-variety property and/or debt crisis.
Indeed, as Rabobank's Michael Every cites the Economic Observer, a subsidiary of Xinhua News Agency, which published a newsletter titled "Finance Bureau Chiefs in the Past Half Year", and which concluded that local government finances and the national economy are reportedly "on the verge of collapse, and the thunder will explode at any time." To be sure, recent events ensure the coming collapse:
Country Garden just defaulted;
Zhongzhi Enterprise Group missed payments on high-yield investment products;
recent bank loan data were terrible;
and today saw industrial production 3.7% y-o-y (4.3% expected),
retail sales 2.5% y-o-y (vs. 4.0%),
fixed asset investment 3.4% y-o-y year-to-date (vs. 3.7%),
property sales -8.5% y-o-y year-to-date (vs. -8.1%),
and unemployment 5.3% vs. 5.2% (not to mention that youth unemployment which just hit all time highs, will no longer be reported for obvious reasons).
Summing it up, China "has fallen into a psycho-political funk," says the FT, as its youth tell Soviet jokes again or say 'let it rot', and a high-earning Beijing worker is quoted as saving as much as he can to prepare for a property crash or a move against Taiwan.
新華社下屬經濟觀察報11日發表通訊"財政局長這半年",報導了三個地方財政局長今年以來的工作情況,在網上引發熱載,新浪APP用一張圖片為這三個財政局長的工作做了10條歸納,最後總結為:節流很難開源更難,地方財政和國民經濟處於崩潰邊緣,隨時會爆雷. pic.twitter.com/dJgwrXJ33P

— 高瑜 (@gaoyu200812) August 13, 2023
So is there anything that could actually stop the bleeding in China from an economic or market perspective?  Well, as Nomura's Charlie McElligott writes - and agrees with our assessment - the biggest reason why China is imploding in slow-motion is that that, as opposed to rest of world, Chinese authorities never responded with Fiscal transfer into pockets of individuals and businesses who were bled dry during the covid crisis.
Hence, the one thing that could truly "shock and awe" markets would be outright "helicopter drops" of money direct to households and businesses in order to stimulate DOA Chinese consumption.
Impossible you say, after all China has nearly 300% debt/gdp... only the terminal economic basket case that is Japan is higher.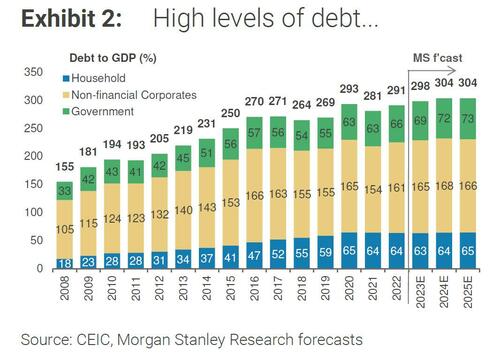 Or maybe not: as Bloomberg writes today (see "PBOC Adviser Says China Urgently Needs to Boost Consumption") Cai Fang, a member of the monetary policy committee at the PBoC, i.e. one of China's top central bankers, warned that the top priority for policymakers is to stimulate household consumption:
Cai added in the article posted late Monday on a social media account of the China Finance 40 Forum, one of the nation's top economic think tanks, that continued unemployment in the wake of the pandemic is crimping household spending and that consumer confidence is expected to weaken without new policies.
"The most urgent goal now is to stimulate household consumption, and it is necessary to use all reasonable, legally compliant and economic channels to put money in residents' pockets," said Cai, 66, one of the most well-known economists in China to focus on demography and labor economics.
The former vice president of the Chinese Academy of Social Sciences, a state think tank, joined the PBOC's policy advisory body in early 2021, and has helped the government map five-year plans for economic and social development. In July, Cai called on officials to reform the household registration system to unleash the consumption potential of the nation's large pool of migrant workers.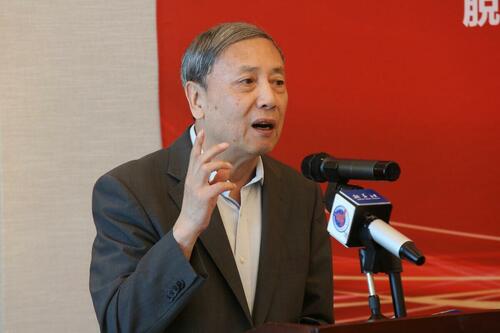 One can almost see why just hours later Beijing halted the publication of China's youth unemployment data.
More importantly, however, Cai called for the inevitable helicopter drops to boost household consumption and aid the economic recovery:
He is among a group of economists who have called for providing direct stimulus to consumers to boost spending, a path that Beijing has so far been unwilling to follow. Earlier this year, Cai said direct stimulus of 4 trillion yuan ($551 billion) paid directly to Chinese households is an option to spur a recovery in consumer spending that has been slowed by weak wage growth during the pandemic.
And while China can probably pretend it can avoid what's coming for a few more months, it is now just a matter of time before China joins the rest of the "developed" world in what Michael Hartnett recently called the "era of fiscal excess."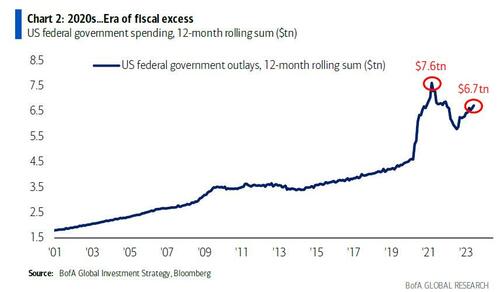 After all, there is probably a reason why former PBOC governor, Yi Gang, who called for "economic prudence" and was against against massive stimulus, was recently "retired."
See Cai's full post from the China Finance 40 Forum here.
Loading...