---
Consumer Cracks: Prices Of Online Goods Tumble At Sharpest Rate Since Early Pandemic
Traders anxiously await Wednesday morning's US consumer price index inflation report. Economists forecast that June figures will come in at the slowest rate in over two years as the effects of interest rate hikes by the Federal Reserve hinder economic activity. Despite this, inflation has yet to reach the Federal Reserve's 2% goal. However, Bloomberg cited new data from Adobe Inc. that shows promising signs pandemic inflation of goods sold online is cratering.
Data from Adobe indicates that the prices of goods sold on e-commerce websites fell 2.6% in June compared to the same month last year. This represents the sharpest decline since May 2020 and marks the tenth consecutive month of year-on-year declines. Of the 18 product categories monitored by Adobe, half experienced a year-on-year decline, with the most significant decreases in electronics and computers plunged by 12.9% and 16.9%, respectively. Additionally, the price of appliances slid by 8.3%.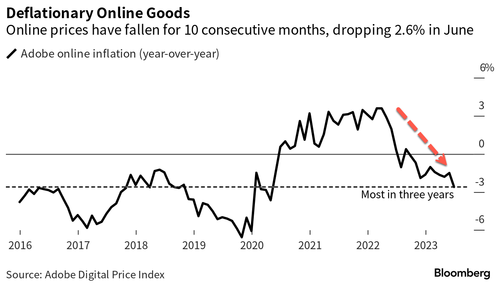 Even though laptops and washer machines saw substantial price declines, there were price increases for online groceries, but they slowed to 7.6% in June, down from 8.2% the previous month and 10.3% in March.
The slowdown in online buying is due to a cash-strapped consumer blasted by the inflation storm. Two years of negative real wage growth, forcing many to draw down on personal savings while ramping up credit card debt, has been a toxic combination. The latest consumer credit report noted Monday that those who are using credit cards to make ends meet with high borrowing costs are abruptly hitting a brick wall. Wait until student loan repayments restart in September, and a much more significant discretionary spending pullback will be seen. 
Ahead of Wednesday's CPI print, Wall Street forecasts suggest a headline print of 3.1% for June, compared to the four-decade high of 9.1% recorded last year at this time and the 4% rate in May. 

There was more good news on Monday when used cars tumbled the most since the start of the pandemic. 
Inflation has peaked, but numerous Fed members have called for at least two more rate hikes. "Inflation is our No. 1 problem," San Francisco Federal Reserve President Mary Daly on Monday. 
This is bad news for Amazon Prime Day.
Loading...