---
Dollar Tree Tumble: Mounting 'Shrink' Erodes Margins, Forecasts Fall Short Of Estimates
Dollar Tree Inc.'s shares got whacked in the premarket trading hours in New York after second-quarter earnings slid from a year ago. Margins deteriorated in the quarter on rising "shrink," or inventory loss due to shoplifting or employee theft. Also, guidance missed the average analyst estimates. 
The discount store chain recorded a net income of $200.4 million and diluted EPS was $0.91 for the quarter, beating the average analyst estimate tracked by Bloomberg by several cents. However, this was down from $359.9 million, or $1.61 a share, in the quarter one year ago. 
Here's a snapshot of second-quarter earnings: 
Adjusted EPS 91c, estimate 87c

EPS 91c vs. $1.60 y/y

Net sales $7.32 billion, +8.2% y/y, estimate $7.21 billion 

Dollar Tree net sales $3.87 billion, +8.5% y/y, estimate $3.77 billion 

Family Dollar net sales $3.45 billion, +7.9% y/y, estimate $3.44 billion 

Gross profit margin 29.2% vs. 31.4% y/y, estimate 29.7% 

Dollar Tree gross margin 33.4% vs. 37.4% y/y, estimate 34.8%

Total location count 16,476, +1.5% y/y, estimate 16,506 

Dollar Tree Locations 8,177, +0.9% y/y, estimate 8,244

Family Dollar locations 8,299, +2.1% y/y, estimate 8,276
However, the third-quarter earnings forecast missed average analyst estimates: 
Sees EPS 94c to $1.04, estimate $1.29 (Bloomberg Consensus)

Sees net sales $7.3 billion to $7.5 billion, estimate $7.33 billion
Here's the full-year forecast:
Sees EPS $5.78 to $6.08, saw $5.73 to $6.13, estimate $6.02

Sees net sales $30.6 billion to $30.9 billion, saw $30.0 billion to $30.5 billion, estimate $30.65 billion
"In the second quarter we continued to generate strong top-line results across both segments. While factors like sales mix and elevated shrink continue to pressure margins, we generated a year-over-year increase in gross profit dollars. We are pleased with the progress of our transformation to date and remain confident in our ability to deliver our growth objective of $10 or more of diluted EPS by 2026," stated Jeff Davis, Chief Financial Officer.
This isn't the first time Dollar Tree warned about rampant shrink at stores nationwide. They noted this back in May, indicating theft impacted the first quarter and would use "defensive merchandising" and other tactics to counter the problem. 
Shares slid 5% in premarket trading.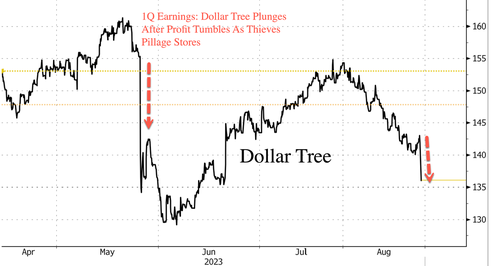 Here's a headline that will make you laugh (so $2?): 
DOLLAR TREE SAYS IT'S POSITIONED TO BRING IN WEALTHIER SHOPPERS
$DLTR CEO: pic.twitter.com/Icy4i0VnaX

— The Transcript (@TheTranscript_) August 24, 2023
Could this be next? --> Cash-Strapped Consumers Resort To 'Dumpster Dining' To Save On Grocery Bill
Retailers like Dick's Sporting Goods Inc., Foot Locker Inc., Target Corp., Lowe's Cos., and Walmart Inc. have warned this earning season that shrink is getting out of hand at their respective stores, causing continued margin pressure. 
Some of these companies either funded or supported the 'defund the police' movement several years ago, leading some Democrat mayors to ram through social justice reform. This only emboldens criminals to conduct thefts, resulting in surging shrink. Great job, 'woke' management team of retailers... 
Loading...