---
Tesla Slips After Goldman Lowers Earnings Target, Citing Price Cut Pressure
Tesla shares are lower by more than 2% in early trading on Monday after Goldman Sachs lowered its earning forecast on the name and it was also reported that Tesla was in early talks for a factory in Saudi Arabia. 
Analyst Mark Delaney wrote in a note on Monday: "We believe that Tesla could further lower prices in 2024 to support higher volumes, which we believe will mitigate the EPS benefit from cost reductions."
The note continued: "We lower our 2023 and 2024 EPS estimates for Tesla, mostly on lower ASPs and, in turn, auto gross margin ex-credit assumptions (driven by lower prices for S/X and, to a lesser extent, Model Y, and partly offset by higher Model 3 ASP assumptions)."
Goldman called the company's price cuts into question, noting they could have a negative effect on Tesla's bottom line, Teslarati reported:
"Tesla materially reduced S/X pricing on 9/1 by 15-19%, and reduced Model Y pricing in China in mid-August (and has been discounting inventory on hand in other markets like the US this quarter). However, Tesla raised pricing on the Model 3 with the refreshed version (Highland) that is now being sold in Europe and China."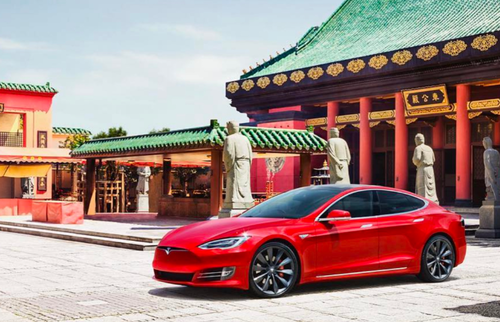 Tesla's new Model 3 Highland edition is notably absent from both the American market and specific European regions, such as the UK. Its U.S. availability seems contingent upon tax incentives . Initially, Tesla's Model 3 RWD and Long Range versions only received $3,750 in IRS credits, given their Chinese-manufactured batteries. However, in June 2023, Tesla shifted its pricing strategy for the Model 3, deciding to allocate vehicles with Chinese batteries to other international markets.
Recall we just noted last month that Tesla had cut the price of its Model S Plaid in China by 19%. 
We also noted that Canadian VC and self-labeled "SPAC Jesus" Chamath Palihapitiya was out over Labor Day weekend praising the speed and aggressiveness of Tesla's price cuts, which seem to be working. 
"Some companies cut prices, but most keep prices flat or increase them," he added. "Some companies improve products quickly. But no one has actually given you more for less on such a big ticket purchase so frequently."
On Monday morning it was also announced that Tesla was in "early talks" with Saudi Arabia to set up a manufacturing facility, according to Reuters, who reported that Elon Musk would also "meet Israeli Prime Minister Benjamin Netanyahu in California on Monday".
Meanwhile, Saudi Arabia's sovereign wealth fund is the majority investor in Lucid Group, a Tesla competitor. The country is luring Tesla in with a "right to purchase certain quantities of metals and minerals the company needs for its electric vehicles", the report adds. 
The Wall Street Journal reports that the tentative agreement appears to be in line with the Kingdom's initiatives to diminish its economic dependence on oil. However, the deal is still in its nascent phase and there's no guarantee it will come to fruition.
Tesla currently has 6 factories and is looking for a site for its 7th. 
Loading...