---
Tucker Carlson Plans New Media Empire With 'Twitter As Its Backbone', WSJ Says
Roughly three months ago, Fox News divorced its biggest star, Tucker Carlson. Since then, he's established a strong presence on Twitter, where his series of episodes have garnered hundreds of millions of views. Now, the renowned conservative commentator appears to be gearing up to launch his own media company. 
According to The Wall Street Journal, citing sources close to the matter, Tucker and former White House adviser Neil Patel are preparing to raise hundreds of millions of dollars to fund a new media company with Twitter as its backbone. 
Tucker plans to offer episodes for free while charging a subscription for shorter versions of his show, interviews, and documentaries, the people said, adding content may expand with other shows from additional hosts.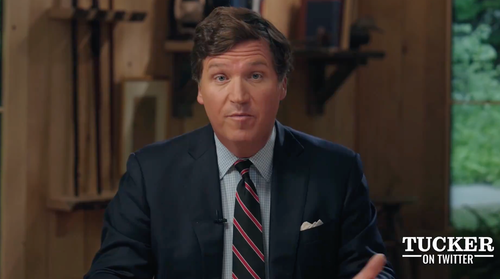 Patel and Tucker are old college buddies and, in 2010, partnered to form the conservative Daily Caller news site, which Patel still controls. The people said financiers, lawyers, and media strategists are all lined up for the new media company. 
In recent weeks, Carlson's team held discussions with Twitter about establishing a media organization with Twitter at its core. The people noted the media company would have its own website and mobile app and expand its content on other platforms. 
Some of the discussions Carlson's team and Twitter employees had were making it easier for Twitter videos to be viewed on a television set, according to the people. 
A spokesperson for Tucker told WSJ one of their big concerns was relying on YouTube for content distribution because moderators are too 'woke'.
In combination with a Twitter subscription revenue, Carlson's team will have big brands sponsor each show, the people said. 
Tucker was fired from Fox News in late April. Fox has sent Tucker a "cease-and-desist" letter over his new Twitter series. Tucker's lawyer has stated his client wouldn't "be silenced by anyone."
Meanwhile, Elon Musk has championed Twitter as a haven for free speech. Months ago, Musk welcomed Tucker as a new creator on the platform and even said, "I hope that many others, particularly from the left, also choose to be content creators on this platform." 
Tucker's new media company, leveraging Twitter as a means of content distribution, could disrupt the television news media industry. 
Loading...