---
US Chamber Of Commerce Blames Biden For UAW Strike Chaos
Update (1055ET): Do not worry, the Biden admin is sending a crack team to Detroit to fix this...
*BIDEN EXPECTED TO SEND GENE SPERLING, JULIE SU TO DETROIT: WSJ

that should fix everything

— zerohedge (@zerohedge) September 15, 2023
To do what exactly? 
Meanwhile, the US Chamber of Commerce blamed the Biden administration Friday for the labor action chaos unfolding across the US auto industry. 
Suzanne Clark, president of the Chamber, said the United Auto Workers decision to strike Friday "will have far-reaching negative consequences for our economy."
"The UAW strike and indeed the 'summer of strikes' is the natural result of the Biden administration's 'whole of government' approach to promoting unionization at all costs," Clark said. 
She continued:
"For the 94% of American private sector workers not in a union, the costs are starting to stack up – from increasing consumer costs — now for new cars — to sudden loss in business for those in related industries like auto suppliers, restaurants and caterers whose customers are now on strike."
The president remains on a very fine line here.
*    *    * 
Update (1035ET):
Wall Street analysts are sharing their thoughts on UAW strikes that began 10.5 hours ago. 
Here's the latest commentary (list sourced from Bloomberg):
Morgan Stanley

A strike outcome was "the overwhelming consensus" in conversations with investors; in light of this, it thinks downside risks in the shares from this news in isolation should be limited

Moving forward, we expect all three stocks to be sensitive to newsflow relating to the potential duration of the strike

Citi

"With a strike already expected and full-size truck plants not being initially targeted, stocks could express some degree of relief on Friday that the initial strike outcome wasn't worse"

HSBC

Estimates that Stellantis would lose €350m per week as a result of a strike 

As for the German carmakers such as Mercedes-Benz, BMW and Volkswagen, their plants are not organized by the UAW; that means the group does not have any direct impact from the strikes, Tyndall wrote in a note dated Sept. 13
*    *    * 
Update (0800ET):
General Motors CEO Mary Barra told CNBC in an interview:
"I'm frustrated and disappointed. We don't need to be on strike right now.

"We have a very generous offer on the table right now. It's historic. From a wage increase perspective, it's the most significant offer we've had in our 115-year history."
Barra warned:
Strikes will "not be good for the economy overall." 
She added:
Strikes can be resolved "very quickly" after a "historic" offer from the automaker.
"I'm frustrated and disappointed. We don't need to be on strike right now," says $GM CEO Mary Barra. "We have a very generous offer on the table right now. It's historic. From a wage increase perspective, it's the most significant offer we've had in our 115-year history." pic.twitter.com/RO6xrv1Yq2

— Squawk Box (@SquawkCNBC) September 15, 2023
Still, GM's offer and Ford's and Stellantis' offers are still well below the demand threshold for the union.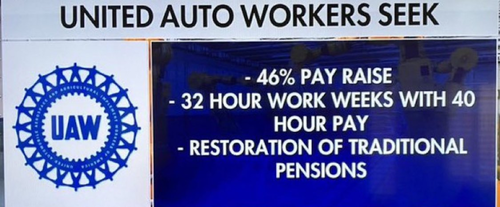 ... and then there's this. 
Major business group blames Biden for UAW strike https://t.co/UCkgYavUpF

— POLITICO (@politico) September 15, 2023
Nice job, pro-union Biden. 
*   *   * 
For the first time in United Auto Workers' 88-year history, the union has mobilized a strike against Detroit's "Big Three" automakers - General Motors, Ford, and Stellantis, the producer of Chrysler. Negotiations for a new four-year labor contract between UAW and the three automakers broke down before midnight, triggering a strike at several manufacturing plants. 
As many as 13,000 UAW workers abandoned their workstations. They walked out of factories belonging to the Big Three, including the Ford Motor Co. plant in Michigan that makes Bronco SUVs, a General Motors Co. factory in Missouri that assembles Chevrolet Colorado pickups, and a Stellantis NV plant in Ohio that builds Jeep Wrangler SUVs, at 2359 ET (as the current labor contract expired).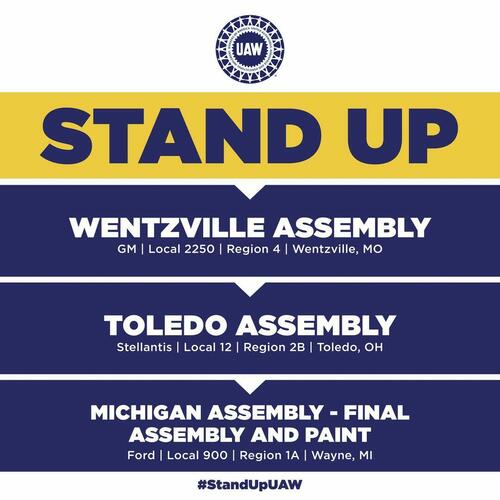 "Tonight, for the first time in our history, we will strike all three of the Big Three at once," UAW boss Shawn Fain declared. 
Fain explained, "This strategy will keep the companies guessing. It will give our national negotiators maximum leverage and flexibility in bargaining. And if we need to go all out, we will. Everything is on the table."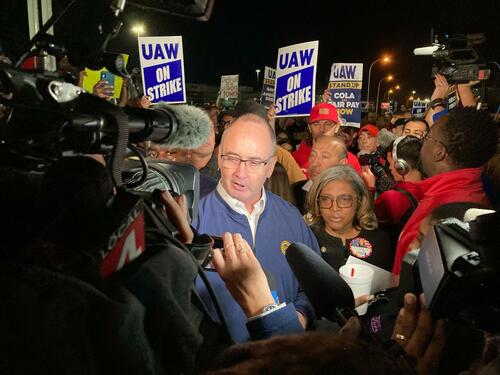 Fain told workers at a Ford Assembly Plant in Michigan, "We didn't want to be here. We want a fair agreement. We want fair economic and social justice for our members. That's what this is all about. And it's a shame." 
Oh, is that all? pic.twitter.com/vf3xSvgpqM

— Guy Benson (@guypbenson) September 15, 2023
Reporters asked Fain whether a 20% pay increase for a new contract would be acceptable for workers. He argued that automobile prices have surged 30% in the last four years while pay for CEOs has jumped even higher. 
Ford and GM shares in premarket trading are down about 1.5%. Also, watch auto suppliers: Aptiv, Autoliv, BorgWarner, Adient, American Axle, Visteon, Lear, and Goodyear Tire.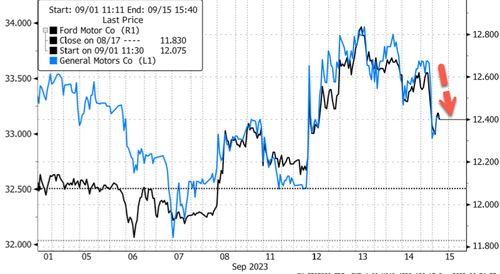 John Murphy, a senior auto analyst at Bank of America Securities, was correct last week when he warned clients that a strike was "almost guaranteed." 

Meanwhile, President Biden was very wrong about the strikes. Earlier this month, during a visit to his beach house in liberal white-elitest Rehoboth Beach, he said, "I'm not worried about a strike. I don't think it's going to happen."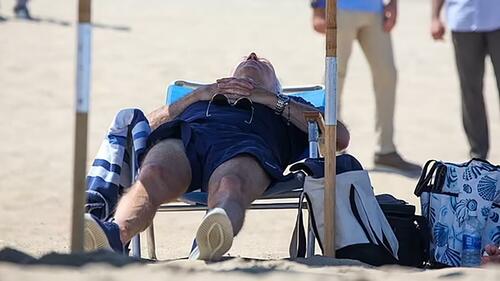 UAW's targeted strikes are hitting automaker's most popular and profitable models. They have so far spared plants that make Ford F-150, Chevy Silverado, and Ram pickups, as those plants could be targeted down the line. 
As for strike impacts, HSBC analyst Michael Tyndall told clients Stellantis would endure $373 million per week as long as the labor action was underway. 
Also, "Small and medium-sized manufacturers across the country will feel the brunt of this work stoppage, whether they are a union shop or not," the National Association of Manufacturers said in a statement. 
Gene Munster, a managing partner at Deepwater Asset Management, told clients in a note Thursday that Tesla appears to be the big winner here as it has spent years fending off unionization attempts. 
"Big auto is in a tight place when it comes to transitioning its business to electric, and the current UAW discussions will eventually result in a steep increase in costs that will further push them into the red," Munster said.
Bloomberg's Mark Cudmore warned a prolonged strike could send a wrong message to companies attempting to re-shore operations across the US because labor will be too expensive. 
It begins...
Workers walk out of the Toledo Assembly plant weaving the UAW and wearing strike ready t-shirts. #StandUp pic.twitter.com/s75ah7icPb

— Luis Feliz Leon (@Lfelizleon) September 15, 2023
And so... It begins

At midnight of September 14, after decades, #AutoWorkers walk out IN POWER from the factories of Ford, General Motors & Stellantis starting #strike action demanding new contract#StandUpUAW @UAW #UAWStrike #UAWSolidarity pic.twitter.com/7m3B8bJN9J

— PAME Greece International (@PAME_Greece) September 15, 2023
🎶We are the union, the mighty mighty union🎶
This is what the gates of the Ford assembly plant looks like in Wayne, Michigan. For the first time ever, Big 3 auto workers are on strike at the same time. #StandUpUAW #UAWStrike pic.twitter.com/S3CoTSwvIf

— Left_Voice (@left_voice) September 15, 2023
The start of a strike by the three largest car manufacturers (Ford, GM, Stellantis) in the USA. The 150,000-member UAW union is demanding a 40% pay increase, similar to that of managers, and a 32-hour week with 40 hours pay.

🔺12,700 workers at three factories walked off work at… pic.twitter.com/VLc0T71XBc

— Sprinter (@Sprinter99800) September 15, 2023
From the Ford Michigan Assembly Plant in Wayne Michigan, UAW workers are on strike! @UAW #UAWStrike #StandUpUAW pic.twitter.com/WFP8xoLd4n

— Left_Voice (@left_voice) September 15, 2023
@UAW workers are leaving General Motor's Wentzville auto plant en masse. The strike officially began 10 minutes ago.#UAWStandUp #UAWStrike #UAW pic.twitter.com/6zsjpGBbgt

— Updates (@sirfupdate) September 15, 2023 
Loading...