---
Pfizer Warns Customers Of Drug Supply Disruptions After Tornado Damages North Carolina Plant
The tornado that caused extensive damage at a large Pfizer pharmaceutical plant in North Carolina last Wednesday appears to have disrupted drug supply chains. 
In an email to customers, Pfizer explained sixty-five different formats and formulations of products, including the anesthetic lidocaine; the painkiller morphine; and other essential hospital medicines, "may experience continued or new supply disruptions in the near-term," according to Bloomberg. The email provides a list of several different dosages or formulations of at least 32 drugs, plus two sizes of empty glass vials. The Food and Drug Administration said forty-six of the products were already in short supply. 
On Friday, FDA Administration Commissioner Robert Califf said he "does not expect there to be any immediate significant impacts on supply given the products are currently at hospitals and in the distribution system." But the newly released letter from New York-based Pfizer appears to show otherwise. 
The Rocky Mount Pfizer plant makes up about 8% of all injectable drugs used in US hospitals. The plant sits on 250 acres with more than 1.4 million square feet of manufacturing space.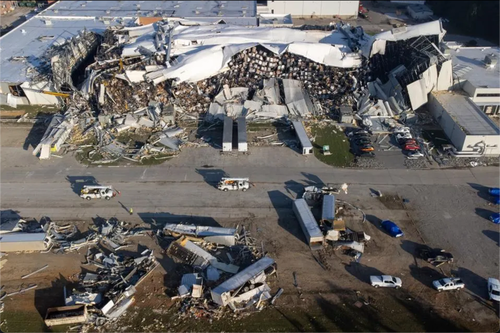 Pfizer's initial assessment of the plant found the tornado primarily damaged the warehouse facility, which stored raw materials, packaging supplies, and finished medicines. It said there appears to be no significant damage to the drug manufacturing area of the plant. 
Before the tornado hit the plant, there were drug shortages across the US, including ADHD drugs, antibiotics, and cancer treatments. Recall this note we penned in June, "Drug And Food Shortages Are Here, And They Will Get A Lot Worse." 
Erin Fox, who runs the University of Utah's drug information service, told Bloomberg that Pfizer's large market share for certain drugs raised concerns that the drug shortage could worsen. 
However, Fox said hospitals wouldn't see immediate effect after the Rocky Mount weather-related incident because drugs were already stockpiled at hospitals, wholesalers, and distribution centers. 
Loading...