---
Jim Jordan Launches Investigation Into Biden-Facebook Censorship Scheme, CCDH
Update (1350ET): The House Judiciary Committee has launched an investigation into a "misinformation" tracking group, the UK's Center for Countering Digital Hate - which is now being sued by X Corp, formerly Twitter.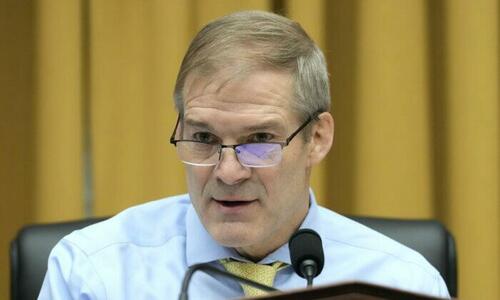 According to a letter seen by the Washington Examiner, the Center for Countering Digital Hate is in the crosshairs, as House Judiciary Chairman Jim Jordan (R-OH) has given the nonprofit until August 17, two weeks, to turn over records that could detail the extent of its ties to the Biden White House.
"We know from the Facebook Files that the Center for Countering Digital Hate was working with the White House to censor speech," said a senior GOP congressional aide. "But how far did it go? Republicans want to find out, and of course subpoenas are on the table if we don't get answers."
Jordan's letter, which was first obtained by the Washington Examiner, is the latest escalation of the GOP's efforts to investigate how the federal government has, in some cases, coordinated with the private sector to flag certain speech, including speech related to COVID-19, as "disinformation" or "misinformation." The chairman has recently been publicizing subpoenaed documents from Facebook, now called Meta, showing how the platform kept in close contact with the Biden administration on content moderation.

Further sets of emails produced in connection to that subpoena, which have not been reported on until now and were shared with the Washington Examiner, shed light on Center for Countering Digital Hate's influence among top Facebook staffers and the highest levels of government. -Washington Examiner
In April 2021, a Facebook employee cited the CCDH's March 2021 report titled "The Disinformation Dozen" in an email thread dubbed "Vaccine policy," in which alleged that there "are twelve anti-vaxxers who play leading roles in spreading digital misinformation about COVID vaccines," with RFK Jr. being one of them.
"We also continue to see pressure from partners and policymakers, including the White House, to remove entities that are seen to be contributing to a large amount of vaccine misinformation content (commonly referred to as the 'disinformation dozen' which CCDH asserts are responsible for 73% of vaccine misinformation on Facebook)," the employee's email continues.
"We continue to monitor these entities on platform, and are reviewing the off platform as well, but do not believe we currently have a clear path for removal of these."
In his letter to CCDH's CEO, Imran Ahmed, Jordan writes: "We are interested in understanding the interactions between the Center for Countering Digital Hate (CCDH) and the federal government in particular, as well as between CCDH and social media companies," adding "CCDH claims that 'social media companies erode basic human rights and civil liberties by enabling the spread of online hate and disinformation.'"
Earlier Thursday, Jordan dropped a thread of receipts on Facebook's relationship with the Biden regime and how they censored unfavorable opinions.
THE FACEBOOK FILES PART 3.

Newly subpoenaed internal notes of meetings between Facebook executives and Biden Admin officials reveal more about the lengths the Biden White House wanted to go to control true speech on Facebook.

🧵 Thread: https://t.co/AeXrs1U8wr

— Rep. Jim Jordan (@Jim_Jordan) August 3, 2023
As we've previously noted (via Paul Thacker)
The Center for Countering Digital Hate (CCDH) sprang out of nowhere in late 2017 or early 2018. At the time, Ahmed was leaving a job as a political advisor to members of the British Labour Party and had just written a book.

As we chronicle in our just published book The New Serfdom, the dominance of market fundamentalism has been a disastrous experiment that has ripped up social cohesion and solidarity while the gap between the 1 per cent and the 99 per cent has soared to levels not seen since the beginning of the last century. Home ownership, secure employment and fair wages seem like relics of a bygone era. Meanwhile exploitative workplace practices have created a new serfdom leaving many people trapped in insecure, unfulfilling and underpaid work with no escape route.

How this background as a political operative prepared Ahmed to brand himself as an expert in disinformation is unclear. His LinkedIn account makes no mention of his work as a political operative in England, although his biography at CCDH states that he is an "authority on social and psychological malignancies on social media, such as identity-based hate, extremism, disinformation, and conspiracy theories."

Ahmed now lives in Washington DC and his organization does not provide a list of funders.

In early 2021, CCDH posted a report titled "The Disinformation Dozen" that alleged the majority of COVID vaccine disinformation came from just 12 accounts, including Robert F. Kennedy Jr. Ahmed released the report just as the Biden administration began their COVID vaccine rollout and shortly before the House held hearings on disinformation at social media companies.
Good question. This appears to be foreign government interference.

Can't wait to get their donors under deposition!

— Elon Musk (@elonmusk) July 31, 2023
And of course, now the CCDH has their cup out for donations.
CCDH who is known for silencing people including orgs like @FDRLST and @zerohedge are now using the @elonmusk lawsuit to get donations crying about how Elon is "silencing them" and it's "straight out of the authoritarian handbook" ….This is unbelievable. 🙄 pic.twitter.com/EiWdZA42j8

— Natalie F Danelishen (@Chesschick01) August 3, 2023
*  *  *
Update (1253ET): Shortly after publication, Rep. Jim Jordan (R-OH) dropped a Twitter thread full of receipts showing the Biden administration's collusion with Facebook to suppress conservative speech.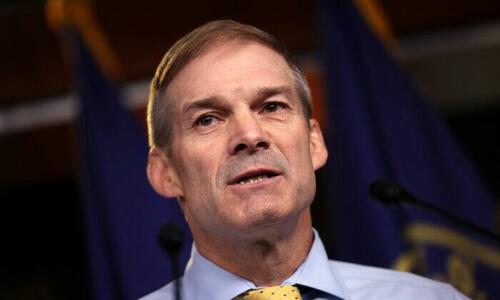 "Since it's a global pandemic, can we give agencies access to targeting parameters that they normally wouldn't be able to?" said President Biden's digital director, Rob Flaherty, according to internal company communications.
Rob Flaherty, President Biden's then-Director of Digital Strategy, repeatedly put pressure on Facebook to explain its content decisions.

"We have to explain to President, Ron, people, why there is misinfo on the internet…" pic.twitter.com/zUZYbKHfA9

— Rep. Jim Jordan (@Jim_Jordan) August 3, 2023
Continued...
For example, Flaherty questioned whether Facebook was doing enough to reduce traffic from sites like the
"I'm curious – NY Post churning out articles every day... What is supposed to happen to that from Policy perspective. Does that article get a reduction, labels?"

But that wasn't enough for the Biden White House. Flaherty wanted Facebook to go a step further. He wanted Facebook to kick people off its site.

The Biden White House's effort to censor opposing viewpoints only grew. So, they upped the pressure. Flaherty demanded that Facebook "play ball" and work with the Biden White House on censorship. He called it his "dream."

But that's not all. The Biden White House wanted to control what you saw on Facebook. They questioned whether Facebook could change its algorithm so users saw more posts from the New York Times and less from the
@realDailyWire
and
@TomiLahren
.
Why did they do that? Because they didn't think you were smart enough to decide for yourself. President Biden's head of strategic communications and public engagement for the
#COVID19
response, Courtney Rowe, mocked Real America's ability to determine what's true and what isn't.

Facebook knew it had to act. One employee tried to explain to the White House that if the company couldn't "remove" content, it could at least "contain it."

But Flaherty continued to press for more content moderation and CONTROL on so-called "bad" content.

And of course, Facebook caved. The company ADMITTED to the White House that it reduced content of certain posts – even if the posts didn't violate the company's terms and contained TRUE information.
Just read this from a Facebook employee.

These newly subpoenaed meeting notes continue to show the Biden White House's desire to direct and control content on Facebook. More evidence of the censorship-industrial complex.
*  *  *
Authored by Eric Lundrum via American Greatness,
In new memos recently released by Facebook, the social media giant was pressured by the Biden White House into altering its algorithms so that mainstream news sources would be elevated over conservative sites.
As Just The News reports, the documents over to the House Judiciary Committee following a subpoena detail a series of meetings between Facebook executives and White House Digital Director Rob Flaherty in the spring of 2021. The demands from the White House focused on posts related to the Chinese coronavirus and the efficiency of the COVID vaccines.
In one meeting on April 14th, 2021, Flaherty asked Facebook if it was possible to artificially promote outlets such as the New York Times and the Washington Post, instead the Daily Wire and Fox News, particularly commentator Tomi Lahren.
"If you were to change the algorithm so that people were more likely to see NYT, WSJ, any authoritative news source over Daily Wire, Tomi Lahren, polarizing people," Flaherty asked.
"You wouldn't have a mechanism to check the material impact?"
"We have to explain to President, Ron [Klain], people, why there is misinfo on the internet, bigger problem than FB," said Flaherty, according to the typed notes from Facebook executives.
"Where issues are, what interventions are, how well they are working, for products, want to engage in things that you know to be effective. I don't even care about specific methodology, you have better, richer data than we'll ever have."
Tomi Lahren, who boasted a large following on Facebook, had recently announced that she would refuse to get the COVID vaccine. Meanwhile, Daily Wire had filed a lawsuit against the Biden Administration's mandate for private workplaces to force its employees to take the vaccine. The Supreme Court eventually struck down Biden's workplace mandate, while upholding his vaccine mandate for facilities that are funded by Medicare and Medicaid.
"What are the things driving hesitancy on your platform? What is it? How big is the problem? When you are intervening, how are you measuring success?" Flaherty repeatedly grilled the Facebook executives in one meeting.
"Never-before-released internal documents subpoenaed by the Judiciary Committee PROVE that Facebook and Instagram censored posts and changed their content moderation policies because of unconstitutional pressure from the Biden White House," said Congressman Jim Jordan (R-Ohio), Chairman of the Judiciary Committee, on Twitter.
Constitutional scholars have also raised the alarm over the revelations, with George Washington University law professor Jonathan Turley saying that he has "asked Congress to pass a law barring federal employees from engaging in censorship and targeting of citizens."
"Agencies have a right to speak in their own voices," Turley added.

"Instead, the Biden Administration sought to engage in what I have called 'censorship through surrogate.' This is part of that pattern."
Turley's take is reiterated by University of Tennessee law professor Glenn Reynolds told Just the News on Wednesday that the First Amendment issue is when the "government is asking people to censor speech, their action is attributable to the government, so both they and the government can be sued."x
"By working with the government, Facebook exposed themselves to liability," Reynolds said, noting that they do not "share sovereign immunity" with the government and will "probably very much regret it."
Loading...