---
Nashville Mayor's Office, MSM Flips Out After Trans Shooter Manifesto Leaks; Authenticity Confirmed
Update (1740ET): The Metropolitan Nashville Police Department (MNPD) said Monday that the three images included with the alleged first three pages of the Christian Covenant School shooter's manifesto are not "crime scene images," the Daily Caller reports.
Conservative political commentator Steven Crowder posted photographs of three pages which he alleged are part of a manifesto written by the now-deceased Audrey Hale, who killed six people inside the Covenant School with a firearm in Nashville, Tennessee, back in March. An officer killed Hale as she continued opening fire on the second floor of the building.

"The MNPD is in communication with the Metropolitan Department of Law as an investigation, begun this morning, continues into the dissemination of three photographs of writings during an on-line discussion about Covenant School. The photographs are not MNPD crime scene images," the statement reads.

Authorities confirmed they discovered a manifesto written by Hale in which she had allegedly planned the attack for several weeks. Following the shooting, authorities obtained the manifesto, which is under an ongoing investigation by the FBI's Behavioral Analysis Unit (BAU). -Daily Caller
And while the MNPD wouldn't confirm the authenticity of the writings, Fox Nashville did.
BREAKING: Images confirmed AUTHENTIC by @FOXNashville

"NASHVILLE, Tenn. (WZTV) — Social media photos claiming to show some of the writings by The Covenant School shooter Audrey Hale are authentic, FOX 17 News has confirmed through a source."

Source: https://t.co/4sBIDgwqSv https://t.co/vDGAPPh7Oa

— Steven Crowder (@scrowder) November 6, 2023
Meanwhile:
UPDATE: @X is now labeling these images as "sensitive content" and has placed a "content warning" on my original tweet

cc: @elonmusk #NashvilleManifesto https://t.co/vDGAPPh7Oa pic.twitter.com/xJe0eP10Uz

— Steven Crowder (@scrowder) November 6, 2023
Then there's Reddit...
This suppression is happening all across Reddit.

The admins really do not want people seeing the manifesto, likely because the it's insane anti-white rhetoric is virtually indistinguishable from your average Reddit post. pic.twitter.com/eJKYY1RB8A

— Reddit Lies (@reddit_lies) November 6, 2023
Images of the pages shown by Crowder: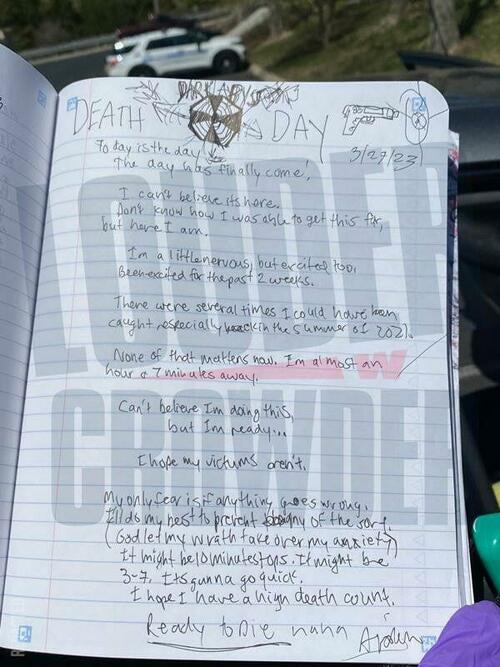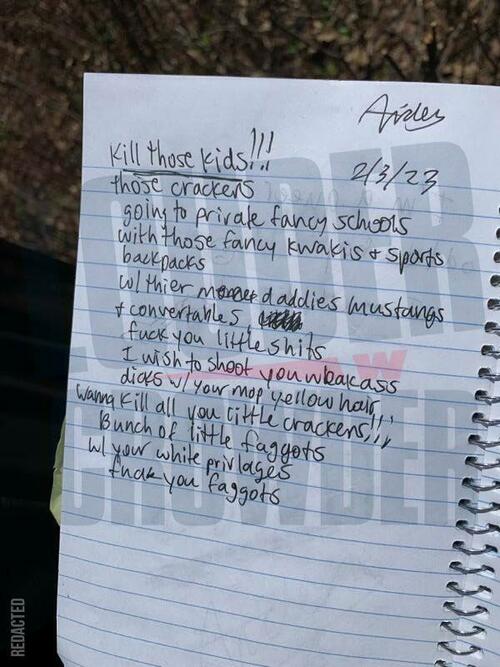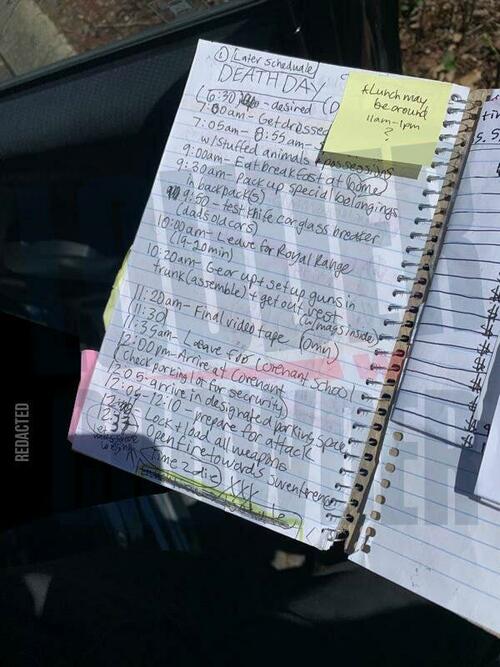 *  *  *
Update (1450ET): The Nashville mayor's office says they're working with Metro legal to get to the bottom of how the transgender school shooter's manifesto was leaked to conservative commentator Stephen Crowder (scroll down to watch).
The Nashville mayor's office has confirmed they are working with Metro legal to determine how those images were released to anyone.

We are working to update this story. https://t.co/wRm7JjgWcs

— NewsChannel 5 (@NC5) November 6, 2023
As the Epoch Times notes:
Metro Nashville Mayor Freddie O'Connell said in a statement on Nov. 6 that he had directed the city's legal director to initiate an investigation into the leak, but he didn't address the veracity of the documents. Other agencies were unable to verify the authenticity of the documents when asked to do so by The Epoch Times on Nov. 6.
"I have directed Wally Dietz, Metro's law director, to initiate an investigation into how these images could have been released," Mr. O'Connell said in the statement. "That investigation may involve local, state, and federal authorities. I am deeply concerned with the safety, security, and well-being of the Covenant families and all Nashvillians who are grieving."
A spokeswoman for MNPD said there was "no information" they could provide at this time when reached via phone on Nov. 6. So far, the Tennessee Bureau of Investigation said that they can offer no confirmation of the documents, according to a spokesman of the agency.
. . .
Earlier Monday Alex Jones claimed that the Biden DOJ suppressed the document.
WEAPONIZATION: Biden's DOJ suppressed the Nashville Transkiller's manifesto after learning they used Democrat talking points to justify targeting white Christian children. @scrowder released three pages today, more to come. pic.twitter.com/PwXdaohxiB

— @amuse (@amuse) November 6, 2023
Freakouts continue. Now it's 'misleading.'
Multiple sources have told me that the selective leak of three pages of the #CovenantSchool shooting "manifesto" is EXTREMELY misleading. People who have read the whole thing say "there's something in there for everybody." Another, "She hated everybody."

— Phil Williams (@NC5PhilWilliams) November 6, 2023
Oh?
You don't have sources, you have people paying you to prevent this from being called an anti-white hate crime.

— JD Sharp (@imjdsharp) November 6, 2023
It's not ur call. The public should be able to see everything

— Paul Grasmanis (@PaulGrasmanis) November 6, 2023
"Not someone's spin"

Buddy, where have you been for the majority of your life?

— Rush (@KnightRushVII) November 6, 2023
The trans terrorist's words are in black and white yet MSM hacks like this Phil Williams guy are trying to gaslight you into thinking they're being misconstrued.

This is why the MSM is going out of business.

They lie to your face while you're looking right at the truth.

— Paul A. Szypula 🇺🇸 (@Bubblebathgirl) November 6, 2023
This is nonsense. There is no spin needed for this. We have eyes. Stop treating the public like we're children.

— Kyle Becker (@kylenabecker) November 6, 2023
*  *  *
Update (1132ET): To the surprise of absolutely no one, Facebook immediately censored the Nashville shooter's manifesto. See what happens when these things don't fit the 'white supremacist' narrative?
BREAKING: @facebook is now censoring the #NashvilleManifesto https://t.co/vDGAPPh7Oa pic.twitter.com/iVso967VHl

— Steven Crowder (@scrowder) November 6, 2023
Now we know why the corrupt FBI tried so hard to cover this up. https://t.co/OAbTjdgVPw

— Sean Davis (@seanmdav) November 6, 2023
*  *  *
The first three pages of transgender school shooter Audrey Hale's manifesto has been leaked to the press, following a March 27 attack that left three 9-year-olds and three adults dead - just days before a "Trans Day Of Vengeance" was scheduled for April 1st.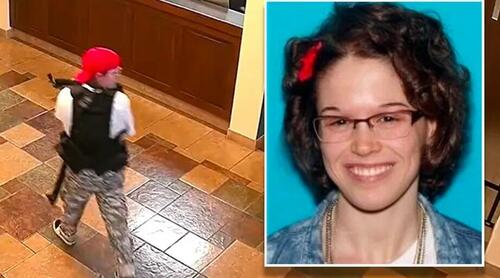 Watch live as Stephen Crowder reveals the manifesto, going through it line-by-line:
Crowder also posted the pages:
🚨 BREAKING: Nashville School Covenant Shooter Audrey Hale's "DEATH DAY" Manifesto Targeted "Cr*ckers" with "white privlages"

"wanna kill all you little cr*ckers"

"I hope I have a high death count"

"I'm ready...I hope my victims aren't."

"Ready to die."#NashvilleManifesto pic.twitter.com/89Ie6TlgRf

— Steven Crowder (@scrowder) November 6, 2023
The manifesto, which one official described as "astronomically dangerous," was originally to set for release in May, until the Nashville Police Department (MNPD) reversed course, and said it would be released 'soon.'
One week after the stonewalling began, the National Police Association (NPA) joined the Metropolitan Government of Nashville and Davidson County in suing for all records related to the March 27 shooting at the Covenant School in Nashville.
"We have asked for any manifestos, emails, and any communications related to the case," Betsy Brantner Smith, spokesperson for the National Police Association, told The Epoch Times.
Tennessee resident Clata Renee Brewer working with the NPA, filed the lawsuit on May 5. Theirs is at least the second lawsuit filed over the shooting.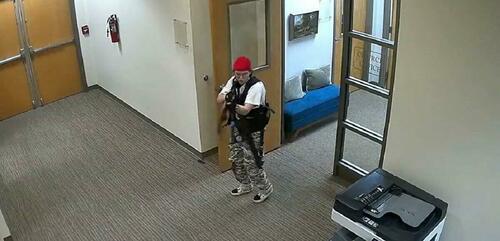 The FBI also denied a request for Hale's manifesto, telling the Epoch Times that U.S. Code exempts from disclosure "records or information compiled for law enforcement records or information… could reasonably be expected to interfere with enforcement proceedings…"
Those "enforcement proceedings" were not cited in the letter. It is unclear what the enforcement proceedings could be in reference to, as the main suspect, Audrey Elizabeth Hale, died at the scene of the attack.
Leftists mocked the shooting, suggesting that the shooting wouldn't have happened if Tennessee hadn't passed laws against gender based surgeries and hormone treatments for minors.
Mentally ill trans terrorist kills 6 people

Deranged leftists: pic.twitter.com/jfLHKOr6Kr

— Libs of TikTok (@libsoftiktok) March 28, 2023
Woke boomer blames the Christian right for the actions of the trans terrorist who shot and killed three children and three adults at a Christian school in Nashville.

pic.twitter.com/hpz61UmpG8

— Ian Miles Cheong (@stillgray) March 29, 2023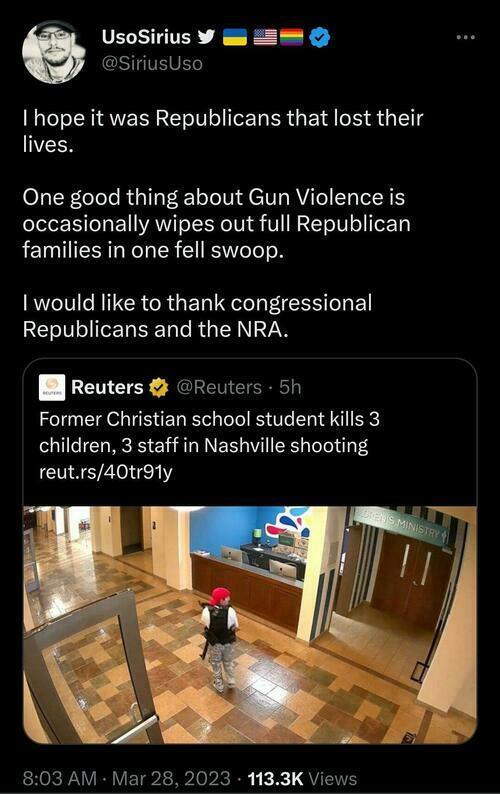 Will officials release the rest?
Loading...