---
Bud Light Backlash "Shows Little Signs Of Abating", Citi Warns
The Bud Light backlash shows no signs of stopping: AB InBev's US volumes tanked 15.2% this past month, according to Citi, citing new data from Nielsen. The brewer has not apologized to its base drinkers for its tone-deaf transgender TikTok campaign in April. 
Here are the main points of Citi analyst Simon Hales' note to clients about "the ongoing backlash to Bud Light's social media campaign": 
ABInBev beer volumes dropped by 15.2% in 4 weeks.

Market average decrease: 2.8%.

Beer price/mix increased by 4.1%.

Total dollar sales for beer fell by 11.7%.

ABInBev's total value share decreased by 484bps.

Beer value share dropped by 555bps.

Bud Light backlash persists.

Bud Light contributes to ~30% of the group's US revenues (about 8% of the group).

Bud Light volumes: -29.7%; previously -29.9%.

Budweiser volumes: -25.3%; previously -26.2%.
In the US beer, flavored malt beverage, cider, and seltzer markets, AB InBev is the only major brewer experiencing widespread declines in total value share and volumes in the last four weeks.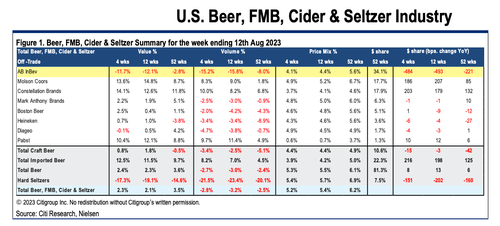 AB InBev's brand portfolio is suffering at a time when US beer, flavored malt beverage, cider, and seltzer markets are marginally growing.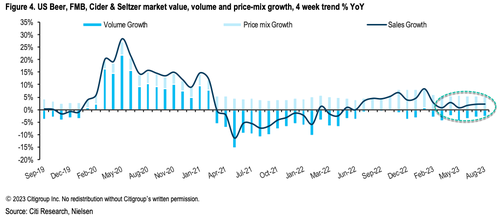 Citi's Hales shows AB InBev's sales are at a critical low -- where either the brewer can revive demand through proper marketing -- maybe an apology might work -- or face a second exodus wave as drinkers switch to other beers. 

An in-depth view of AB InBev's declines by brand.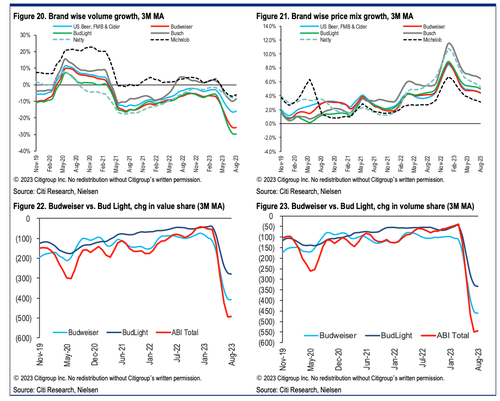 Hales shows Molson Coors has been one of the biggest winners following Bud Light Marketing VP Alissa Heinerscheid's move to 'nuke' the brand with 'woke' transgender influencer Dylan Mulvaney. She was eventually fired.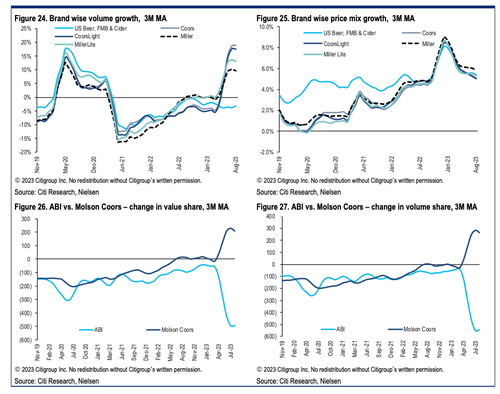 In a separate report, Deutsche Bank analyst Mitch Collett warned Bud Light faced a 25% permanent loss of its business. 
Billy Busch, the heir to the Anheuser-Busch dynasty, made a few recent television appearances, telling AB InBev that he would like to buy back the ailing brand to "make the brand great again" (free from woke). 
Bud Light's PR nightmare, combined with its summertime marketing flop, has failed to revive the brand (for now). Could consumers have finally seen through the façade and realized Bud Light has been handing them 'piss water masquerading as beer' for years? 
Meanwhile, the new top-selling beer in the US is Modelo Especial. Epoch Times explained more:
Modelo Especial is now the top-selling beer in the United States, surpassing Bud Light, whose popularity has plummeted in the midst of a lengthy boycott.

Data from Nielsen IQ shows Modelo Especial's sales at beer and grocery stores surpassed Bud Light's for the entire year, according to CNN. Modelo got 8.34 percent share of dollars spent on beer, as compared to 8.28 percent for Bud Light from the start of 2023 to Aug. 12.

"The fact that we became the number-one beer in America due to a competitor's moves is not accurate," Jim Sabia, executive vice president and managing director of Constellation Brands, said in a recent statement.
Several brewers in the Mid-Atlantic region told us they've increased light beer production and expanded portfolios to take market share away from AB InBev. For those seeking a real American-owned beer, ditch the Belgian brewer in favor of local brewers. 
More in the full note available to pro subs.
Loading...