---
Tucker Carlson's Media Company Secures $15 Million Seed Round From 'Anti-Woke' Firm 1789 Capital
A $150 million fund with aims to capitalize on the parallel economy of conservative-friendly companies has seeded Tucker Carlson and Neil Patel's new media company with $15 million, The Wall Street Journal reports. 
Since leaving Fox News in April, Carlson's widely popular show on X has attracted hundreds of millions of views, underscoring his point that legacy corporate media is dying. In August, we cited a CNBC report that said GOP megadonors considered investing in Carlson's show.
WSJ now reveals that Omeed Malik, who launched 1789 Capital earlier this year, invested $15 million in Tucker Carlson and Neil Patel's new media venture that is registered in Nevada under the holding company name Last Country, Inc. on Monday. The investment is structured as "SAFE," short for Simple Agreement for Future Equity, a standard type of investment structure developed by Silicon Valley startup accelerator Y Combinator. 
People familiar with the deal said the goal of 1789 is to push the new media venture past the proof of concept for its online video-driven business model to raise millions of dollars in the future.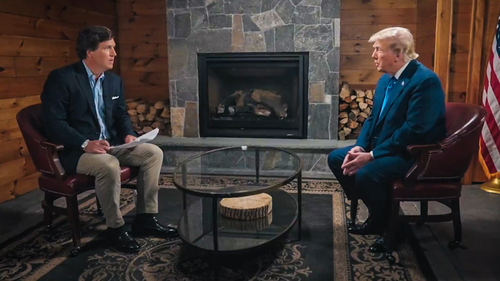 Before this new venture, Malik invested in Carlson and Patel's digital media company, the Daily Caller. This latest investment is part of 1789's thesis of "EIG" investing (entrepreneurship, innovation, and growth), which counters "ESG" (environment, social, and governance—ethical investing standards) that has backfired in the last year. 
Malik believes the addressable market in the parallel economy has a massive upside because, at minimum, in the last presidential election, 74 million Americans voted for former President Trump. One of the greatest examples of this has been the boycott of Bud Light after the disastrous partnership with transgender influencer Dylan Mulvaney sparked a surge in sales for Conservative Dad's Ultra Right Beer this past summer. 
"Where's the money going to go?" Malik said, adding, "I want us to be the beneficiary of it."
WSJ noted 1789 views investing opportunities in three buckets: the "parallel economy" that bets on right-leaning consumers, "deglobalization," or companies reshoring operations back to the US, and "anti-ESG," providing loans to companies that can't get funding because of what Malik calls the "ESG cult."  
As a measure of success, Carlson's interview with Trump, who skipped the GOP debate in late August, garnered an impressive 266.5 million views. Traditional media outlets like CNN, MSNBC, and Fox News would certainly envy such figures.
Loading...