---
"The Bellwether Has Sounded": Musk Says "Great Wakening From Woke Has Happened" After Southpark Nails Coffin
The backlash to woke culture - which is championed by annoying, politically correct, judgemental, authoritarian, censorious, hypocritical self-anointed masters of the universe - is reaching a crescendo.
Last week we noted how Disney punted it's Snow White remake into 2025 as Southpark destroyed them for woke casting in general.
JUST IN: New South Park episode blasts Disney and says all their movies "suck now" and specifically blames Lucasfilm president Kathleen Kennedy.

Remarkable.

"Joining the Panderverse" drops today and all of the main characters have been replaced by minority women, an obvious… pic.twitter.com/ebaXBZhypI

— Collin Rugg (@CollinRugg) October 27, 2023
Also last week, Arkansas Governor Sarah Huckabee Sanders (R) signed an executive order eliminating 'woke, anti-women words' from state government use.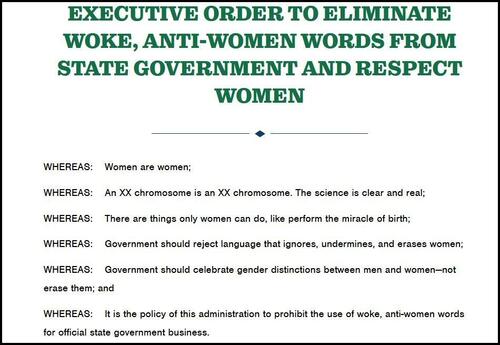 There's even a "get woke go broke" ETF in the works, an 'anti-woke AI chatbot', oh - and the fact that forcing woke trans culture down the throats of Bud Light consumers has killed the brand.
In short, corporations have realized that going woke is killing profits.
To that end, on Monday, Twitter owner Elon Musk declared "The great wakening from woke has happened," which he says is "good for civilization."
The great wakening from woke has happened. This is good for civilization.

— Elon Musk (@elonmusk) October 30, 2023
When asked if Southpark had been a factor, Musk replied: "It is the bellwether."
It is the bellwether

— Elon Musk (@elonmusk) October 31, 2023
The bellwether has sounded https://t.co/MvTE0Qa12V

— Elon Musk (@elonmusk) October 31, 2023
The richest man in the world didn't stop there! As Summit News notes:
The word "cis" is a heterosexual slur. Shame on anyone who uses it.

— Elon Musk (@elonmusk) October 30, 2023
Yeah, obviously a slur too

— Elon Musk (@elonmusk) October 31, 2023
Naturally, the woke crowd in the replies were not happy:
Bullshit.

— Stephen King (@StephenKing) October 30, 2023
Reeeeee!
If woke means that you are concerned about another person's welfare & safety & if you want them to have equal access to healthcare and you want everyone to be treated equally while given the best chance possible for them to pursue life, liberty & happiness then I'm woke AF 😊

— Dr. Amaya Deakins (@amayadeakins) October 30, 2023
@elonmusk - your "anti-woke" campaign, is nothing more than Clickbait. I'll give it to you, it is effective. But, you are not fooling anyone into thinking that, by promoting ideological division, you are somehow unlocking the doors of "free speech" on this platform. You have…

— Ramon Caudle (@UrbanistaRamon) October 31, 2023
Musk has long spoken out against what he describes as "the woke mind virus," but it appears he now believes the worm has turned.
Musk previously described wokeness as "one of he biggest threats to modern civilisation," adding "At its heart, wokeness is divisive, exclusionary, and hateful. It basically gives mean people… a shield to be mean and cruel, armored in false virtue."
Elon Musk @elonmusk says the woke mind virus is "arguably one of the biggest threats to modern civilization." pic.twitter.com/JqLmb1Sqm8

— The Post Millennial (@TPostMillennial) December 22, 2021
Meanwhile, conservatives Right Said Fred are just too sexy to believe Musk...
Really? We must be living on different planets 🤣

— Right Said Fred (@TheFreds) October 30, 2023
Loading...