---
"Trump Was Right": Jake Tapper Admits Biden Lied About Hunter 'Making Fortune In Ukraine, China, Moscow'
In an odd change in tone, CNN's Jake Tapper finally admitted that former President Donald Trump was right and Joe Biden was wrong during the 2020 presidential debates when Trump said that Hunter Biden "made a fortune in Ukraine, in China, in Moscow."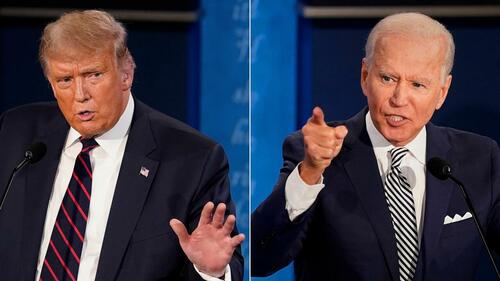 Citing a fact check from the Washington Post's Glenn Kessler (!?), Tapper noted that "Hunter Biden admitted in court in July that he was, in fact, paid substantial sums from Chinese companies," and that "Hunter Biden reported nearly 2.4 million income in 2017 and 2.2 million income in 2018, most of which came from Chinese or Ukrainian interests. But this — and this directly goes against what Joe Biden said in the debate in 2020 with Donald Trump," Tapper said.
Watch:
CNN's Jake Tapper: "Trump was right.. Biden was wrong." pic.twitter.com/IYaa2NPVT2

— Real Mac Report (@RealMacReport) August 18, 2023
Former Democratic Rep. Andy Levin of Michigan then dove in to provide cover for Joe Biden, claiming "Well, I think dads sometimes and parents sometimes have blind spots about their kids, for sure, and the President may be no exception. But nothing has tied the President to any of Hunter Biden's dealings. There's no whiff of him being involved or him being implicated in it."
Which Tapper let him get away with, as opposed to mentioning:
Then there's former Biden business associate, Tony Bobulinski - who flipped on the Bidens, confirmed that the "Big Guy" (of '10% for the Big Guy' fame) is Joe Biden, and that he met with Joe Biden twice in LA in 2017 as part of the vetting process for him to run a joint venture with Hunter and his Uncle Jim Biden, an a Chinese energy company (CEFC), which would end up netting them millions of dollars in exchange for no obvious products or services.
Then again, this is CNN we're talking about. Just admitting that Trump was right is a huge baby-step in the right direction.
Corporate Media claimed:

1) Russia-Collusion real
2) Steele Dossier credible
3) Trump a Putin puppet
4) Hunter Laptop was Russian disinfo
5) FBI acted fairly
6) Censorship by Govt a myth
7) Covid didn't come from lab
8) Biden wasn't involved w/Hunter

Leftists: Still trust media https://t.co/VAHyA7UOWe

— Jeff Carlson (@themarketswork) August 19, 2023
Loading...