---
Luxury Turmoil: Diamond Prices Crash To Pre-COVID Levels; Used Rolex Prices Hit New Six-Month Low
We asked in May Did Europe's Luxury Bubble Just Burst? 
By June, we pointed out Luxury Recession: Diamond Prices Crash, Rolex Downturn Persists. 
And there were signs in July that Richemont, the owner of Cartier and Van Cleef & Arpels jewelry, reported a surprise drop in revenue in the second quarter. As we noted then, "Faltering demand in one of its biggest markets is an ominous sign of a weakening consumer."
Besides Richemont, LVMH faces troubles as the US luxury market sours in the second quarter. The so-called 'strong consumer' narrative is cracking. This comes as consumers have been battered by two years of negative real wage growth, forcing some to draw down on personal savings while racking up insurmountable credit card debt to make ends meet. On top of this, interest rates are at 22-year highs, and the latest Senior Loan Officers Opinion Survey on Bank Lending Practices shows even tighter bank lending standards that suggest a less favorable economic outlook for the US in the coming quarters. 
Considering all these factors, it makes sense why diamond prices have collapsed to pre-Covid levels. The latest data from the Diamond Index via International Diamond Exchange shows the index was at 116.12 on Aug. 1, breaching the floor of 116.26 set on Mar. 24, 2020.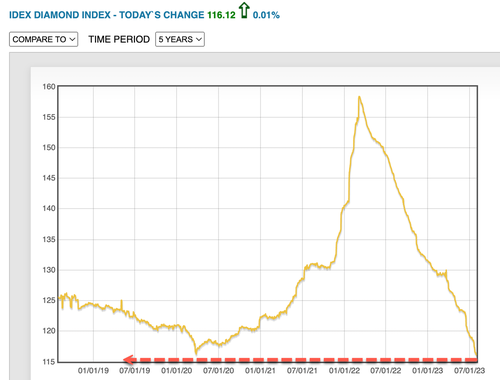 Also, the secondhand luxury watch market has yet to find a bottom. 
The Bloomberg Subdial Watch Index, which tracks prices for the 50 most-traded watches by value on the secondary market, continues to slide, breaching a six-month support level of around $35,762, now printing about $35,271. The index has slumped 41% since peaking around $60,600 in March 2022.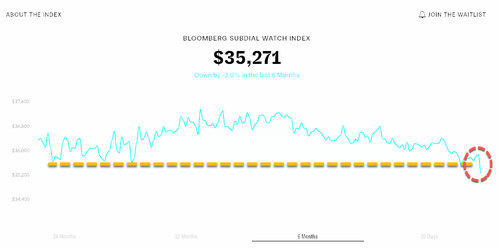 Burberry and Prada have also reported weakening demand in the US market. Without stimulus checks, the luxury goods boom is no more. Just wait until student debt payments restart in under a month.. 
Loading...